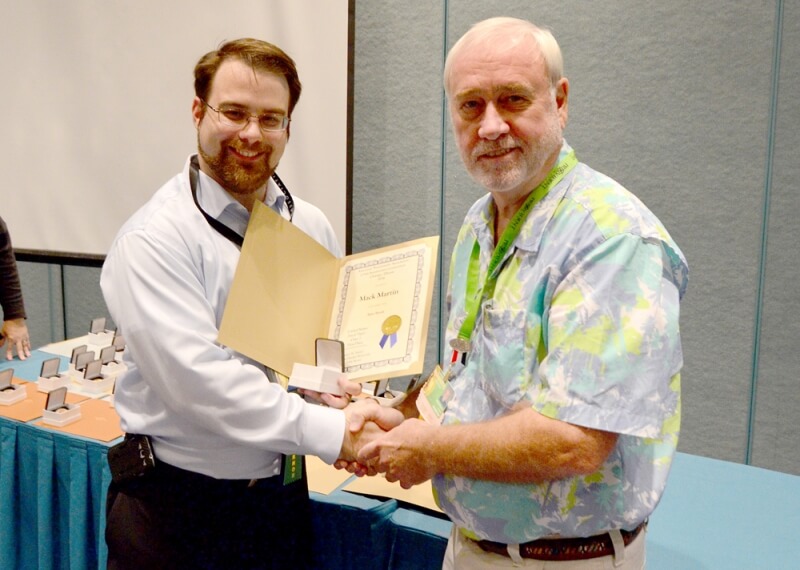 Mack Martin awarded top exhibiting honor at World's Fair of Money
Exhibit featuring Reconstruction-era bonds wins Howland Wood Memorial Award
Editor's note: See below for the full list of exhibitors, as well as examples from the Best-in-Show exhibit.
American Numismatic Association member Mack Martin won the Howland Wood Memorial Award for Best-in-Show in numismatic exhibiting at the 2014 Chicago World's Fair of MoneySM in Rosemont, Illinois. Martin's exhibit, "Baby Bonds," featured notes issued in Georgia and Louisiana after the Civil War that were used to fund Reconstruction efforts.
Martin, who previously won best-in-show awards at Central States and Memphis Paper Money Show, said he began collecting Baby Bonds in 1975 ."That started me collecting everything I have ever had a chance to buy," he said.
For Martin, the fun of collecting Baby Bonds is researching the history behind them through archived records. Only two states in the South, Georgia and Louisiana, issued Baby Bonds. In Martin's home state of Georgia, the use of Baby Bonds was short-lived before the Federal Government shut the program down. Georgia Baby Bonds were likely issued for less than a year, and those that were redeemed were destroyed, which makes Georgia bonds exceedingly rare, Martin said.
The Radford Stearns Memorial Award for Excellence in Exhibiting was presented to Thomas J. Uram as first runner-up for "The Historically Significant Two Cent Piece 1864-1872" and Charmy Harker as second runner-up for "Penny Potpourri — A Collection of Penny Creations." Harker also won the Rodger E. Hershey Memorial People's Choice Award, which is selected by convention attendees, and the Ira & Larry Goldberg Award for the best exhibit of "Coins that Made History."
The Thos. H. Law Award for best exhibit by a first-time exhibitor went to Sunil Richardson for "Ancient South Indian Lead Coins and its Uniqueness in World Numismatics."
The Charles H. Wolfe Sr. Memorial Award for the Young Numismatist Best-of-Show exhibit was presented to Garrett S. Ziss for "The Faces and Stories Behind the Treasury Signers of U.S. Paper Money."
Jeffrey J. Rosinia received the Derek Pobjoy Award for Best Exhibit of Modern Circulating Commemorative Coins for "United States Circulating Commemorative Coins." He also received the Women in Numismatics award for his exhibit "The Unappreciated Susan B. Anthony Dollar: A Historic Coin that 'Gets no Respect.'"
Gene Hynds received the Joseph E. Boling Award for Judging Excellence.
Fifty-six competitive and seven non-competitive exhibits were displayed at the World's Fair of Money by 38 competitive and six non-competitive exhibitors.
The American Numismatic Association is a congressionally chartered nonprofit educational organization dedicated to encouraging people to study and collect money and related items. The ANA helps its 25,500 members and the public discover and explore the world of money through its vast array of education and outreach programs, as well as its museum, library, publications, conventions and seminars. For more information, call 719-632-2646 or go to www.money.org.
CONTACT: Jake Sherlock
Telephone: 719-482-9872
E-mail: pr@money.org