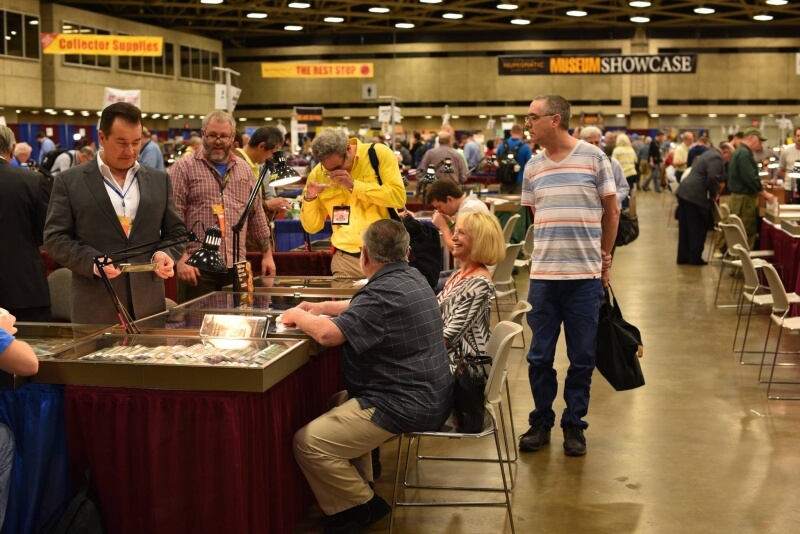 A warm thank you from John and Nancy Wilson
Thank you Dallas, ANA Staff & Board, Hosting Clubs, General Chairman, his Committee, Volunteers and Everyone Who Participated.
The American Numismatic Association (ANA – www.money.org) National Money Show (NMS) held at the Kay Bailey Hutchison Convention Center on March 3 - 5, 2016 was a successful coin convention. This was the fifth time that the ANA has hosted a convention in Dallas, Texas. Public registration at the show was 2585. Many of these came to the show on multiple days. The show had 231 dealer tables and a half dozen coin club tables. The ANA owes a debt of gratitude to the hundreds of dealers who purchased tables or early bird badges. The show appeared to be steady and Saturday had the most attendee's. The dealers we spoke to had decent shows. It was nice to see concession stands that had more than just hot dogs. They were kept pretty busy.
Our personal thanks to ANA Convention Director, Rhonda Scurek, Executive Director Kim Kiick and all the staff for their tireless work. Thanks also to President Jeff Garrett and the board for their work on this convention. A very big thanks to General Chair Jim Fitzgerald, Assistant Chair John Post and their committee & volunteers, the host clubs, the Dallas Coin Club & Texas Numismatic Society, along with the ANA National Volunteers for all their outstanding and dedicated work on this convention. Thanks to the many staff members and volunteers who assisted with convention set-up, during the show hours and breakdown.
A special thanks to the exhibitors, judges, speakers, PPI Security, the numismatic press participants, Coin Television & Coin Week, show sponsors & patrons, scout and kids zone & Treasure Trivia activities, a well done show program, coin club tables & meetings and volunteers at the "Free Appraisal" table. This NMS featured a very special 125th Anniversary Silver Eagle NGC MS69 (500 made) for new (platinum) and renewing (three year) memberships or a donation of $125. With the rise to $8.00 for one day's admission many people utilizes the Platinum membership to join the Association and receive the commemorative silver eagle. Many dozens of members also extended their memberships to receive the silver eagle. Though it is too late to use the joining or renewing memberships a $125 donation would get you one of these great NMS mementos. ANA still has some left. Call them at 800 367 – 9723 and find out how to purchase one. The official auctioneer, Heritage Auctions (HA.com) is to be thanked for their participation. The sold out ANA Legacy Dinner featured Steve Ivy (co-chairmen & CEO) and Jim Halperin (co-chairmen) of Heritage Auctions. The Numismatist Editor Barbara Gregory moderated this event. Everyone in attendance enjoyed how both these icons in the numismatic hobby became interested in coins and eventually formed Heritage. We found out one of the only things that Heritage doesn't sell are rare cars. The attached Omni Dallas Hotel and nearby Aloft Dallas Downtown Hotel were also very accommodating and were sold out for the show.
The museum showcase had some outstanding coin and currency exhibits not only from their collection but several others. Featured at this show were selections from the Harry W. Bass, Jr. Collection, the 1943-S Copper Cent, Bebee Collection Highlights, Paper Money of Texas, Coins of the Ancient Olympics, Masterpieces of Ancient Numismatics and World War l Trench Art. A special thanks to the numismatists and museums that shared their collections for this important "Museum Showcase."
Thanks again to everyone who assisted and helped at this convention. Make sure you visit www.money.org, Facebook and YouTube to see the videos and many pictures taken at the convention by ANA Volunteer Kurt Bellman, and other ANA staff. We look forward to the ANA World's Fair of Money (WFOM) to be held in Anaheim, CA on August 09 – 13, 2016.
John and Nancy Wilson, ANA National Volunteers, Ocala, FL