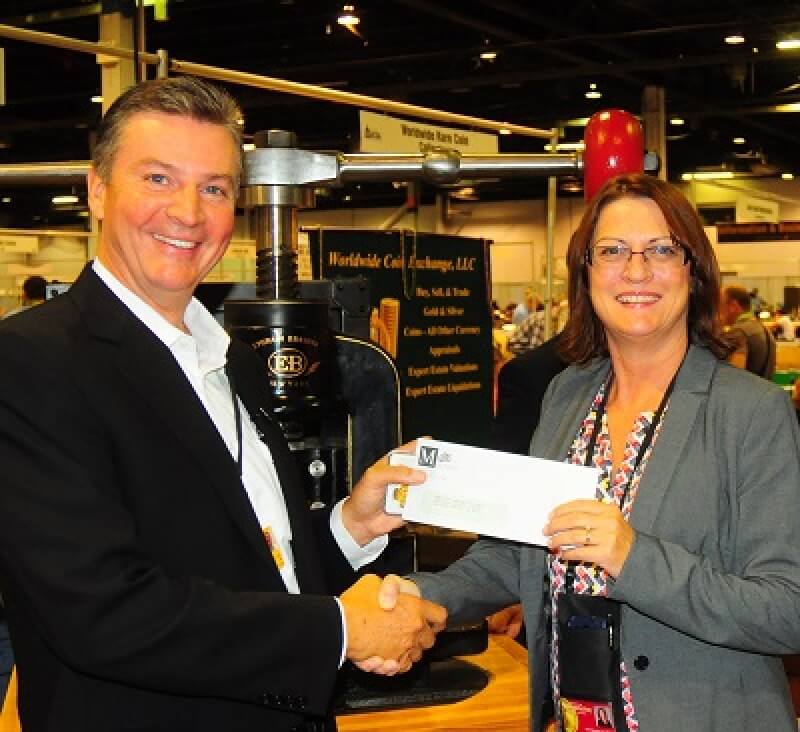 Crum donates $50,000 to ANA website project
Adam Crum, owner of Monaco Rare Coins, donated $50,000 to the American Numismatic Association on Saturday, Aug. 9, the final day of the 2014 World's Fair of MoneySM in Rosemont, Illinois. Accepting on behalf of the ANA was Executive Director Kim Kiick.
Crum's donation is earmarked for the continued development and enhancement of the ANA's new website, Money.org.
Crum's company, Monaco Rare Coins, exhibited the 1787 Brasher Gold Doubloon at the World's Fair of Money this year, the first time the coin had been exhibited in the Midwest for more than 20 years. Monaco also struck and sold 500 reproductions of the Brasher Doubloon on a hand-operated press at the World's Fair of Money. The replicas are comprised of 26.4 grams of .9999 fine gold and are dated 2014. Crum said that Monaco will continue to strike the replicas as collector demand dictates, and $50 from each replica will be donated to the ANA.
The first of the 500 replicas produced at the World's Fair of Money was donated to the Edward C. Rochette Money Museum.