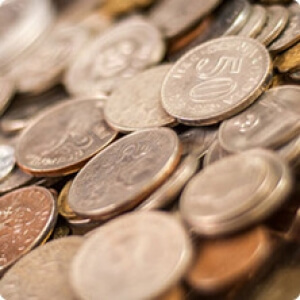 Thank you South Shore Coin Club for ANA Table at your 53rd Annual Coin Show
By John and Nancy Wilson, ANA National Volunteers
The South Shore Coin Club (SSCC - www.ssccmke.org) hosted their 53rd Annual Coin Show on April 7-8, at the Crowne Plaza Hotel, located near 13th and College Avenue, in Milwaukee, WI. The SSCC event is the largest coin show in Wisconsin. The show had 47 dealers and set up 95 tables. Many dealers had multiple tables. Attendance at the two-day show was 600. Though the club charges a small admission the first fifty veterans and seniors 62 or older were admitted free on both days. We want to thank Show Chairman Joe Bartoszewicz, Co-Bourse Chairmen Michael McAndrew and Howard Thorpe, President Jim Taylor and all the members of the SSCC for providing the American Numismatic Association (ANA – www.money.org) with a free table. We signed up or renewed 14 members for the ANA. We also received a donation of $50 from Milwaukee area dealer Andrew Kimmel – Paragon Numismatics, for the shipment of the coin show kit.

The hard-working members of the SSCC handled the registration, sold raffle tickets and gave out special wooden nickels that were made for the show. The show also had an hourly door prize drawing. The competitive exhibits were chaired by Darrell Luedtke. The Best-in-Show will be announced later. The Crown Plaza is an excellent location for a coin show with its free airport shuttle and parking, a well-lit and carpeted convention hall, a very nice restaurant and the Interstate within blocks of the hotel. Security was very good and nothing was reported lost or stolen. The dealers appeared to have good shows. This location also has many other hotels within walking distance.
The Milwaukee Numismatic Society (MNS – www.milwaukeenumismaticsociety.com) held their 37th Annual Boy Scout Coin Collecting Merit Badge Clinic in conjunction with this show on Saturday. The Clinic was coordinated by Leon Saryan, PhD, along with members of the MNS. Speakers for the clinic were, Leon Saryan, Bruce Benoit, and Lee Hartz. Justin Perrault handled the computer, and other assistants for the clinic were Gary Bieringer, Josh Whitehall, Howard Thorpe and David Herrewig. The MNS Boy Scout clinic was started in 1981 by Lee Hartz and Tom Casper. The clinic was revamped by Bruce Benoit in 1985. Several national organizations have adopted the MNS Boy Scout Coin Collecting Merit Badge Clinic. Before the clinic ended Bruce Benoit took the scouts and their family members on a tour of the bourse and exhibit area. Out of the 31 Scouts who took the Clinic 28 passed all requirements. The MNS also thanked Crowne Plaza Hotel Banquet Director Michelle for her timely support for the Clinic. Attached is a photo of the Milwaukee Numismatic Society volunteers and scouts.
We look forward to attending next year's 54th coin show, at this same location on April 13-14, 2018. Yours in Numismatics, John and Nancy Wilson, ANA National Volunteers