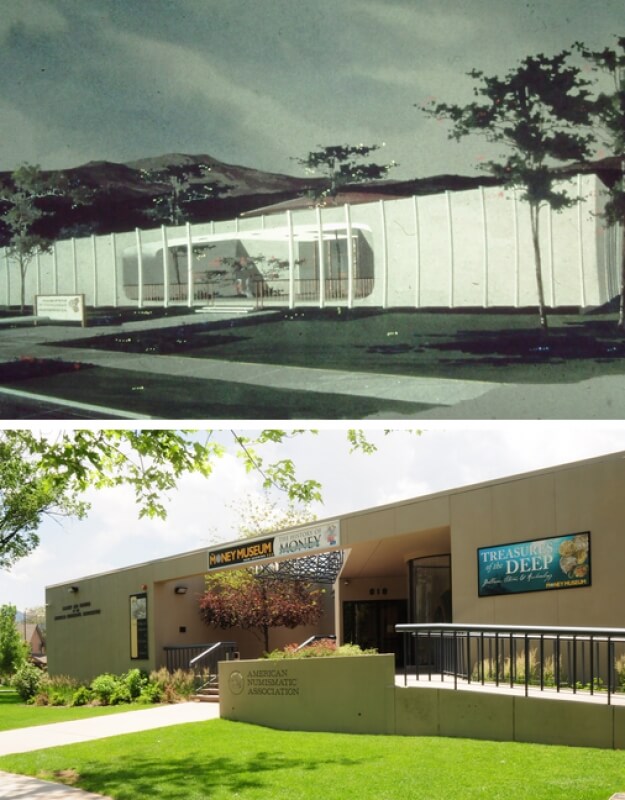 Throwback Thursday: The ANA Headquarters
The American Numismatic Association was established in 1891 when founder George F. Heath called upon the public asking for letters in favor of establishing the ANA. He wrote, "What's the matter of having an American Numismatic Association? Would it be possible? Would it be practical? All in favor of such a scheme, send in your names." Many collectors wrote in and pledged their support to the association.
However, it wasn't until 1960 that the Board of Governors set up a fund to build an ANA Headquarters. The ANA intended to spend $250,000 with an additional $40,000 for furnishings. Whitman Coin Products contributed $2,000 to the project. The building was to be 15,700 square feet.
The project took a couple of years to get started. In April of 1966, The Numismatist published the architect's drawing of the new building, which was to be built just south of Colorado College near downtown Colorado Springs. (photo #1 below) Construction began in the fall of 1966 and the crew started digging the basement and laying the foundation.
The building opened on June 10, 1967, with many members from across the country in attendance for the festivities. The road in front of the headquarters was blocked off to allow for the very large crowd. (photo #2 below)
For about a year the ANA Headquarters was filled with several offices for the ANA staff and tripods filled with a paper money exhibit that the Bureau of Engraving and Printing had given the ANA on permanent loan (photo #3 below). It was the association's hope that they would be able to acquire more items to display for the public.
In 1977, Stack's of New York contributed funds to the ANA to develop a first-class museum. Since then, the museum has been full of rare and unique numismatic items, both old and new. (photo #4 below)
The ANA library started off very small and was overcrowded with titles, auction catalogs and periodicals. (photo #5 below) It was clear that the library needed more space as the staff was storing books in their offices and anywhere they could find room. Most of the ANA's library collection contains very old, brittle books that should be properly stored in a temperature- and humidity-controlled room.
In the 1980s the ANA released a letter to the members asking that they each contribute $30, which would provide the necessary funds for the building extension. (photo #6 below) Thankfully, with the addition, the library area more than doubled. The extension also provided more office space, a larger museum and more storage.