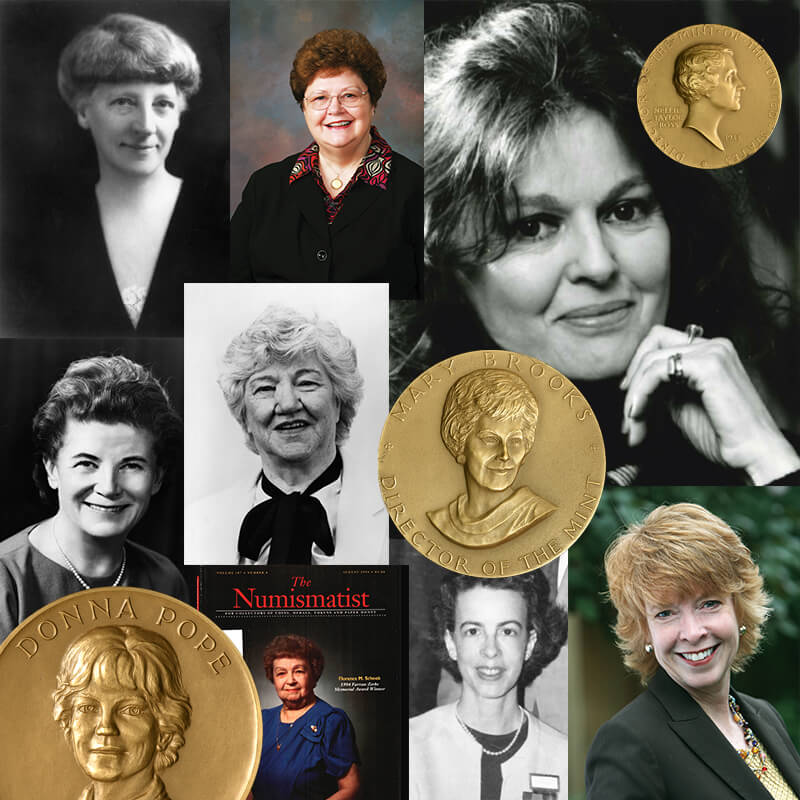 Tales From the Vault: Celebrating Women in Numismatics
This year marks the centennial of the Nineteenth Amendment, granting women the right to vote in the United States. The ANA and Money Museum hold lasting reminders of the important role of women as leaders in our hobby through medals, the Numismatic Hall of Fame, and honorary titles.
Medals in the ANA's Edward C. Rochette Money Museum honor the women who have served as U.S. Mint Directors: Nellie Tayloe Ross (1933-1953, also first woman to serve as governor of a U.S. state, Wyoming, 1925-1927), Eva Adams (1961-1969), Mary Brooks (1969-1977), Stella Hackel Sims (1977-1981), Donna Pope (1981-1991) and Henrietta Fore (2001-2005) have all been honored on Mint medals. Several objects in the collection feature the work of Elizabeth Jones, the only woman to serve as Chief Engraver of the U.S. Mint (1981-1991).
Outside the Money Museum is the Numismatic Hall of Fame, honoring American giants in the hobby. Women honored with a plaque for induction into this prestigious hall include Agnes Baldwin Brett (first curator at the American Numismatic Society, inducted 1974), Margo Russell (longtime editor of Coin World, inducted 1986), Eva Adams (inducted 1986), Catherine Bullowa-Moore (noted dealer and numismatic ambassador, inducted 2006) and Beth Deisher (longtime editor of Coin World, inducted 2013).
Two women have served as President of the ANA: Virginia Culver (1973-1975) and Florence Schook (1985-1987). Schook received the Farran Zerbe Memorial Award in 1994, and ANA educational classes are offered by the Florence Schook School of Numismatics.
The Elvira Clain-Stefanelli Memorial Award for Achievement in Numismatics was established in 2013 to honor women who have made significant contributions to numismatics. It is named for the prominent numismatist and longtime Smithsonian curator.
This March marked the end of the long and distinguished ANA career of Barbara Gregory. She was the first female editor-in-chief of The Numismatist, and her tenure (1988-2020) was the longest in the history of the magazine. The annual ANA Outstanding Club Publications competition is named in her honor.
Access the gallery below to view these female leaders and the designs they inspired.

Suggested Reading: 100 Greatest Women on Coins, by Ron Guth. Call number AA70.Gut.R 2015.

Numismatics -- An Ancient Science: A Survey of Its History, by Elvira Clain-Stefanelli. Call number AA40.Cla.E. 1965.