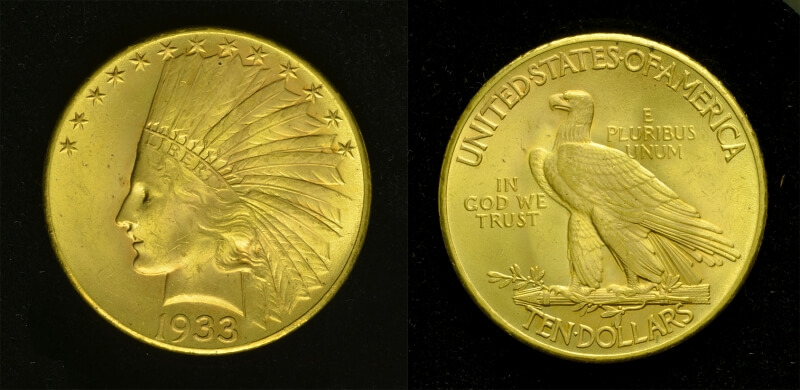 Tales From the Vault: The Rare 1933 Ten-Dollar Indian Head Gold Piece
By Sam Gelberd, ANA Education Instructor
About the Design:
The 1933 Indian Head $10 Gold Eagle is one of the most coveted coins in the numismatic universe. It is the only United States gold coin bearing this date that anyone can legally, privately own aside from just ONE double eagle. With an original mintage of 312,500 there are only about 3-4 dozen examples known today, almost all of which are in average mint state condition, with just a few gems. These survivors were purchased directly from the mint early in the year and never had a chance to circulate widely due to FDR's Executive Order #6260 shortly after their release. (The entire production run was coined before this gold recall order was issued. All of the remaining 1933 eagles were melted into ingots and became part of our reserve bullion supply.) A mini-hoard of less than 30 examples was discovered around 1952 on the east coast and a few more pieces have since been discovered in European vaults, hence its status as the rarest date in the series.
Many collectors are familiar with the stories surrounding the twenty-dollar double eagles of the same date, yet "unlike the 1933 Saint-Gaudens Double Eagle, the legal ownership of the 1933 Indian Eagle has never been in question." (Akers, pg. 206) Albeit legal to own, it is a prohibitively rare 'stopper' for the set builders. Some examples have traded hands a few times in auctions over the years, always for six figures each.
Nearly all specimens of this date are well struck, with the exception of some weakness on the numeral "1" in the date and the hair just underneath the "BER" in Liberty. "The reverse is always seen with good detail although the breast feathers are not fully defined." (Fuljenz, pg. 235) Many of these will exhibit hits or bagmarks in focal areas, as well as some copper spotting. They display average luster and frosty surfaces, accompanied by the medium-orange coloration typical of U.S. gold coinage for the period, with hints of rose and green shading. The overall eye appeal is often above average for $10 Indians.