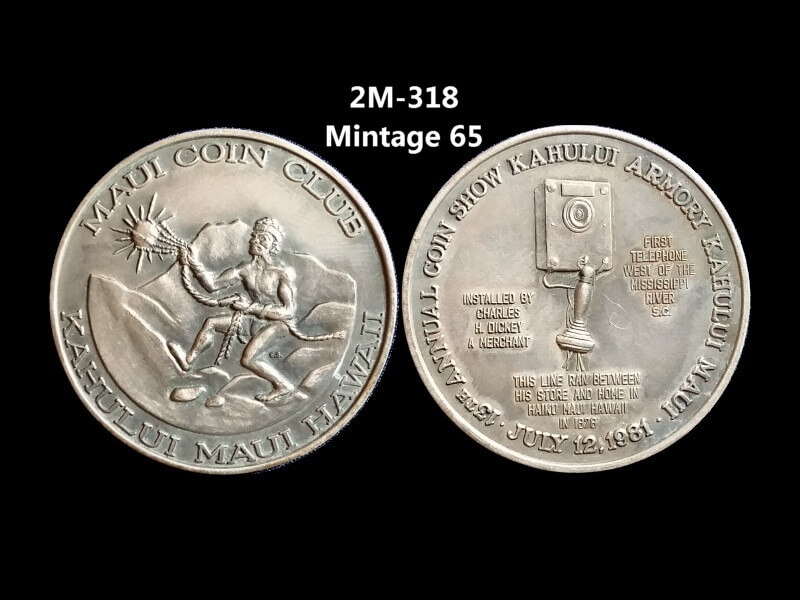 Hawaii: The Maui Coin Club Silver Issues
In 1981 the Maui Coin Club (MCC) suspended club meetings and is now an inactive club. It took me a few years to complete my Maui Coin Club silver medal set. Interestingly, I actually obtained the last few medals to complete my collection from a gentleman who resides on Maui.
The medals were struck in limited quantities by
Pressed Metals Products
located in the City of Vancouver, Canada, which is still an active manufacturer of high quality metal items.
My MCC silver collection --->>>
Maui Coin Club silver issues
One of the most unbelievable numismatic research events happened to me after I contacted
Pressed Metals Products
in 2014 for permission to use a MCC medal image on their website. Jokingly, I asked the President of
Pressed Metal Products
if he had any MCC medals in his inventory to sell me. I was astounded that he said he had a few "working samples" in the company's archive. These "working samples" were struck at the same time as the original issues, but never was issued (never left the company's facility). After a few days of negotiation and reviewing images of these medals, we struck a deal. He knew that these "working samples" would be admired and taken care of (which they have been) by a collector and allowed me to purchase his archived samples. I made sure that the medals were not cleaned in any way and obtained a letter of provenance that attest the status of the medals, identify the seller as the President, and the purchaser as yours truely. These medals are unique and prized specimens in my Hawaiian medal collection.