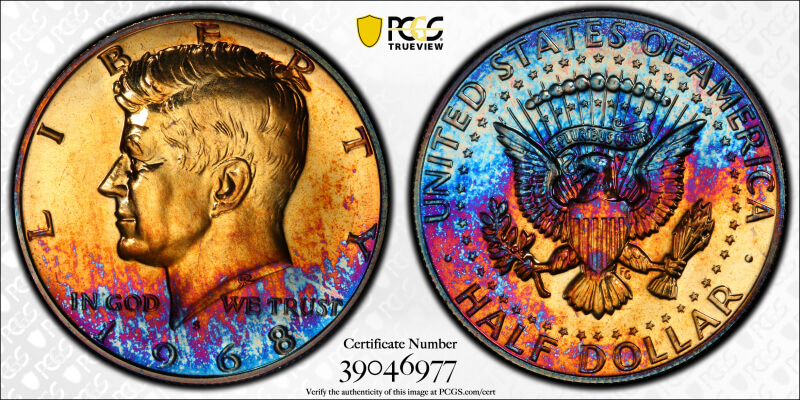 The Wonderful Kennedy Half Dollar
Hi, this is Eric and today I will be writing all about Kennedy half dollars. 
Kennedy half dollars were minted from 1964 and they still are being minted nowadays. Kennedy half dollars today are made with seventy five percent copper and twenty five percent nickel. But, all Kennedy half dollars minted before 1971 are made up of 40 percent silver and sixty percent copper. Now, the half dollars minted today can only be purchased.
The obverse was designed by Gilroy Roberts and the reverse designed by Frank Gasparro. On the obverse there is a design of President John F. Kennedy. On the reverse is an eagle with a shield holding an olive branch and a bundle of 13 arrows. The olive branch symbolizes peace and the arrows symbolize war. A ring of 50 stars to represent the states surrounds the design. The Kennedy half dollar was made to commemorate the death of John F. Kennedy after he was assassinated in 1963. Now let's talk about values and errors about Kennedy half dollars. Kennedy half dollars are usually wanted because some of the Kennedy halves contain silver. I've seen coin shop owners pay a good three or four dollar a piece for the Kennedy halves. And the ones in really good condition can be worth around ten dollars or so. But clad Kennedy halves can be worth a good amount of money in uncirculated condition. According to the red book it could take someone around three dollars each to get a clad Kennedy half in Mint state 63 condition. But the ones graded above MS 67 can be worth thousands of dollars! The same goes for silver Kennedy halves in MS 67 condition or better. Now let's get into the errors. Here are some of the more common errors: 1964 and 1964 D DDO (Double Die Obverse), 1968-S proof inverted mint mark, 1974 D DDO and the 1971 D and 1977 D struck on a forty percent silver planchet. The 1964 DDO can be worth from 20 dollars to thousands of dollars depending on condition. The 1968 inverted S is worth hundreds of dollars in a good Proof 65 condition. The 1974 D DDO in a good Mint State condition can be worth around twenty dollars or so. I'm so sorry but I couldn't find much information about the prices of the 1971 D and 1977 D silver errors. But, here is a cool fun fact about the Kennedy half: A coin representing Kennedy was conceived the very day of his assassination. Within hours of the assassination, Director of the Mint Eva Adams spoke with Chief Engraver Gilroy Roberts about depicting Kennedy on a coin. First Lady Jacqueline Kennedy selected the half dollar for the coin's denomination. Also I forgot but they also made a gold and silver anniversary half in 2014.
Anyways, I hope you guys learned something new and I think I will be writing another blog on the weekends so yeah. And I really need an idea for the blog.
And also make sure to check out my collection cause I posted something cool there. Bye
Eric
Also I could only upload one image cuz the other ones were to large.
Bibliography:Half Dollar U.S Mint