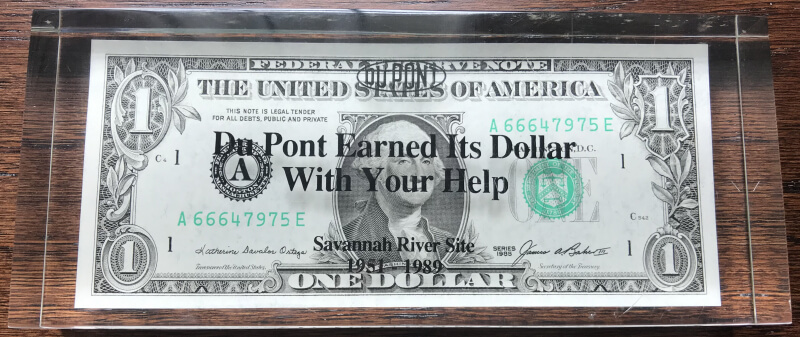 Yes it has been a while since I have posted about Lucite encased items then again how many people have ventured into an antique store recently.  Since Covid-19 entered our vocabulary very little is done in person so if you do not see it on Ebay it might as well not exist.  So I have to say it has been nice to finally get out and for the most part without a mask seeing smiles once again in lieu of bandits.  Now whether or not the one smiling back is vaccinated or not it does not matter to me, to each their own.  That said I was well rewarded for my venture into a small Antique mall in Ross, situated between West, funny name for a city that is east side of central Texas, and Waco.
In my experience most Lucite encased numismatic items are of the shiny round persuasion but not this one.  There on a shelf not far from the sales clerk were two one dollar bills trapped in Lucite.  Not two in one block but two of these paper weights in which to choose from.  Each one featured slightly above the face of the dollar bill the Du Pont logo along with the statement in large print that "Du Pont Earned Its Dollar With Your Help" with just below in smaller print "Savannah River Site 1951-1989".  Of course I looked at them both and made my selection, not as easy as I left my readers at home.  The price was a reasonable $25 so I added it to the items my wife had already put up at the counter along a cobalt blue hog coin bank I found at the conclusion of my browsing.  Of course I had no idea of the significance of the piece or what Du Pont was doing at this site other than they were obviously making money as stated by this commemorative piece.
Well once back home with my new acquisition I started my electronic search, first via the iPad before switching to the desktop.  The first thing I found was that Du Pont was involved in building and operating nuclear facility for the federal government.  Unknown to me Du Pont had been involved in the Manhattan project so their involvement in this site seems natural.  The site had five reactors with the first one coming online in December 1953 and the last one ceasing operation in August 1988.  Based upon what I found this site was more of an enrichment site than a power generation facility but then again this was built in the heat of the cold war.   The site, 310 square miles, also was used by the AEC and the University of Georgia the latter despite being located in South Carolina.  Post-cold war and creation of my new paper weight the site has been used to beat swords into plow shears or at least change warhead material into something useful called MOX fuel.  Yes sounds like an environmental land mind that is still be funded by Congress.  On a positive note though the site did produce 1995 Physics Nobel Prize winners who discover the neutrino 1956.  Guess the Nobel committee moves as fast as congress.
So as to the specific the piece is 6-7/8" x 2-7/8" x 1".  The note is a Series 1985 issued by the Federal Reserve Bank of Boston, Massachusetts, 1913-A per the 2006 edition of the Guide Book of United States Paper Money.  Additionally per an article that appeared in the April 1, 1989 issue of the New York Times there were 2000 of these dollars created that were distributed to employees of Du Pont in appreciation to their 25 or more years of service at the Savannah River Site before it was turned over the Westinghouse.
Lastly yes, when I left the Ross Antique Mall there was still one available.
Good Luck………….

https://www.nytimes.com/1989/04/01/us/du-pont-relinquishes-nuclear-plant.html