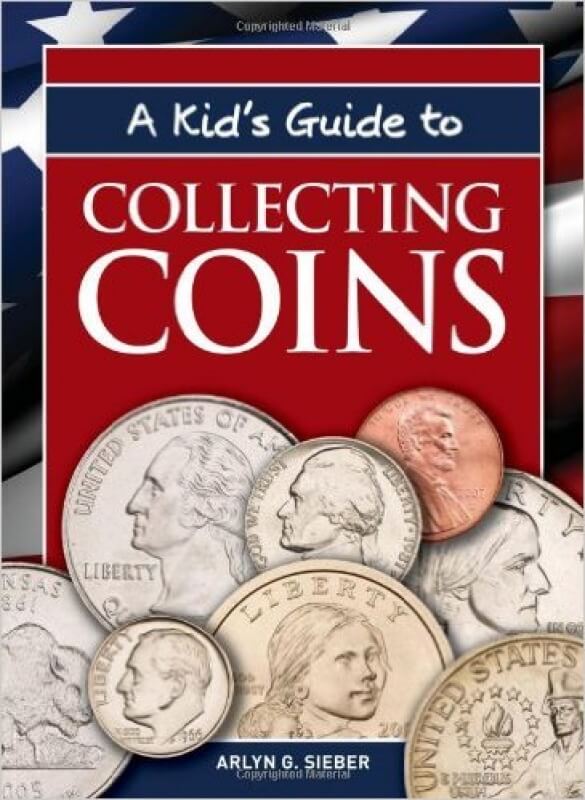 "Book Review": A Kid's Guide to Collecting Coins
Well, I was thinking about what to post in my blog.  I was skimming my coin collection, and then I started looking through my book collection.  There, I came across "A Kid's Guide to Collecting Coins".  And there I decided I would write a "book review" for it.  And so here it is:
There are 11 chapters in this 95 page long book by Arlyn Sieber.  The first chapter is "Be proud.  Be a collector." In this introductory chapter, the author explains reasons why you should collect coins.  She gives reasons such as value, never going out of style, and the pure fact that it can be quite easy.  Moving on to the second chapter. she explains the basic facts, such as mints, parts of a coin, etc. The third chapter details different ways to collect coins, some simple facts about silver, and then heads right into chapter 4.  In chapter 4, the reader will learn abut the country's first coins, how the decimal system came to our coinage, and ends with our coins today.  The 5th chapter is all about Lincoln cents, and many things are covered if you are in need of a little bit of everything.  Jefferson nickels are the topic of the 6th chapter, with the chapter very similar to the previous one except for the difference in denomination.  The 7th chapter covers Roosevelt dimes, again in a similar format.  The 8th chapter covers Washington quarters from the 50 states, to the America the Beautiful quarters - unfortunately none of the original washington quarters are included in this chapter.  Kennedy halves dominate in the 9th chapter, and the 10th chapter covers dollar coins, mostly Sacajawea and Susan B. Anthony dollars.  The presidential dollars are also talked about.  The final 11th chapter is titled "Welcome to the Coin Collecting Community.  This chapter details coin clubs, including the ANA, coin shows, books, magazines, the current proof sets and commemorates and then the book pretty much ends.  A very nice addition to this book are occasional pages of fun facts-for example, odd denominations, or the oldest coins, etc.  I would rate this book a solid stars, and for all those young numismatists out there I recommend adding this to your library.  The price on the back cover is U.S.$9.99.  This book was published by Krause Publications and written by Arlyn G. Sieber.   
If you have any thoughts on this post, please comment!