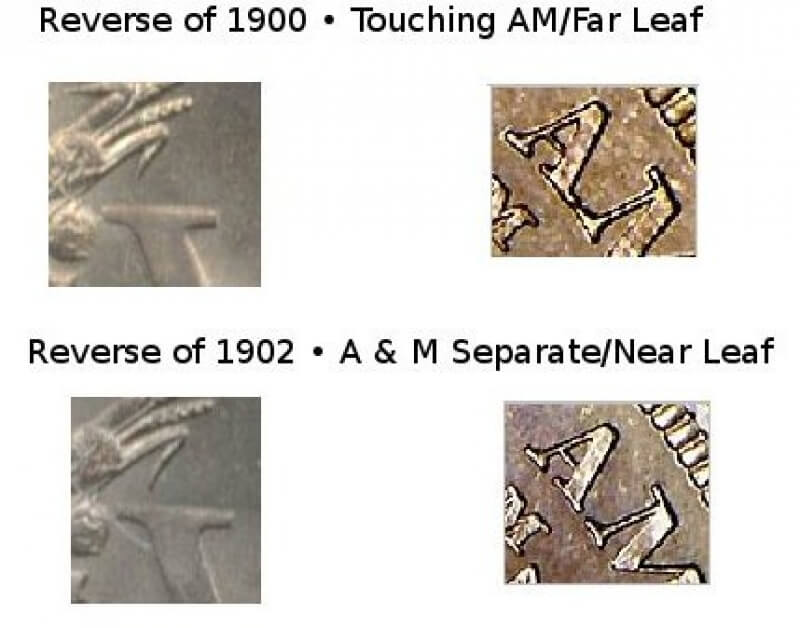 Liberty Nickel Reverse Types
Reverse of 1900 Touching AM/Far Leaf
The letters A and M in AMERICA touch at the right foot of the A and the left foot of the M. Also the leaf above the left arm of the V is far from the serif of the V. This hub can be found on most 1883's, all 1884 through 1900 and on some 1901's and 1902's.

Reverse of 1902 A and M Separate/Near Leaf
The A and M in AMERICA are separated and do not touch at the base, and the leaf above the left arm of the V is near the serif of the V.
This hub can be found on some of the 1901's, 1902's and all of the subsequent years.
In looking through my auction results , where I could obtain a reverse image to determine the type, I found the following distribution for the Business strike and Proof strike coins dated 1901 or 1902.
Business Strike results
1901R00 131
1901R02 60
1902R00 31
1902R02 145
Proof Strike results
1901R00 170
1901R02 54
1902R00 1
1902R02 183
These results show that, with the exception of the proof 1902 Reverse of 1900, reverses of both types can be found.
I have also found both types in my partial rolls of circulated coins for each date.