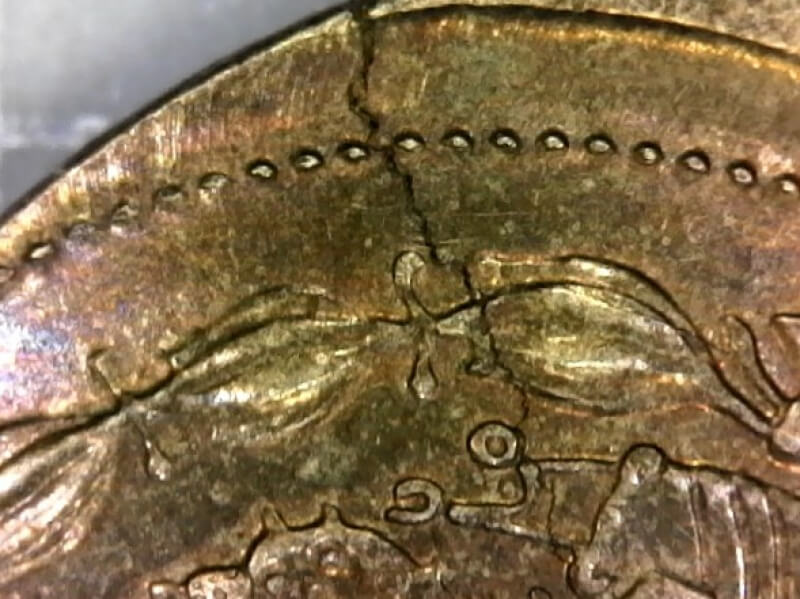 1988 TWENTY PESO OFF CENTER STRIKE +
     I have a nice error coin that I would like to share with everyone. It is a 1988 Mexican 20 peso, KM # 508. This brass, 21mm. round coin was struck in the Mexico City mint, Casa de Moneda de Mexico.
   My specimen happens to have a couple of problems to be a circulating coin. The biggest error is the off center strike. As you can see in the pictures it is quite an eye catcher. It exhibits both obverse and reverse doubling. The doubling includes the date. The second 8 is higher than the rest of the numerals.
   For me even more exciting than the off center strike and all the doubling is the massive die crack. As a collector of Peace Dollar VAMs I find the die cracks and breaks to be my favorite. I don't believe I have one as spectacular as is present here. The crack goes all the way through the coin. The die used here was definitely in its terminal period and must have soon exploded.
   I hope you find this coin as interesting as I do. I think the photos do a much better job of describing it than my words. Enjoy. Please feel free to comment.
BIBLIOGRAPHY: 
   CONECA
   NGC
   EN.NUMISTA.COM