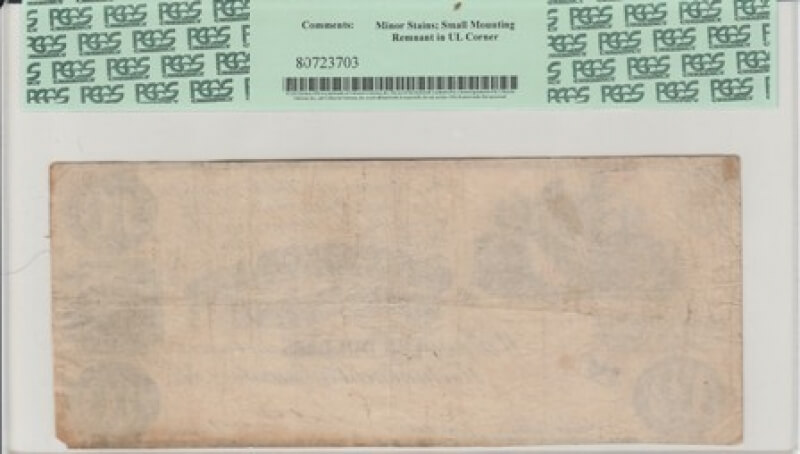 DID YOU KNOW ERIC P. NEWMAN COLLECTED CURRENCY?
Today I have something very special to share. Not only did I win this great example of a T-28 Confederate $10 bill but is a part of the Eric P. Newman Collection! Now I'm not a person that buys a coin or note because of the label but an Eric P. Newman, reasonably priced, is hard to pass up. Especially when I needed that Type number note. It is graded a very Fine 25 by PCCS. It probably would have graded higher but, as noted on the reverse label, Minor Stains, Small Mounting Remnant in UL Corner. I personally feel the E.P.N. logo overshadows all that. As you might be able to tell, he is one of my numismatic hero's. Anyway, Small mounting remnant refers to a little thing from stamp collecting called a hinge. It is a little flip like deal to put stamps in an album. A tiny piece glued to your stamp and the larger piece glued to the album page. This was sometimes used to mount currency, in the old days. The 'PF-7" refers to the Fricke number. The "Cr. 235" refers to the Criswell number. Both of these are different systems to denote the different varieties within the Type. In this case, Type -28, there are 10 different varieties. The PF-7 means there is a small number below the "A". This notes number is a 12. You can really get into these confederate notes. It helps fill my quest for VAM's.
On the left front side of this note are two females. One represents Ceres, the Goddess of Agriculture, holding an urn and the other is Commerce. At the right is a train pulling railroad cars. The back side is blank. There is much more to learn but I leave that up to the reader. Thanks for looking. Please feel free to comment.
SOURCED:
Collecting Confederate Paper Money Field Edition 2008 by Pierre Fricke----The PF number guy!!
Personal call with Rep. at PCGS Currency