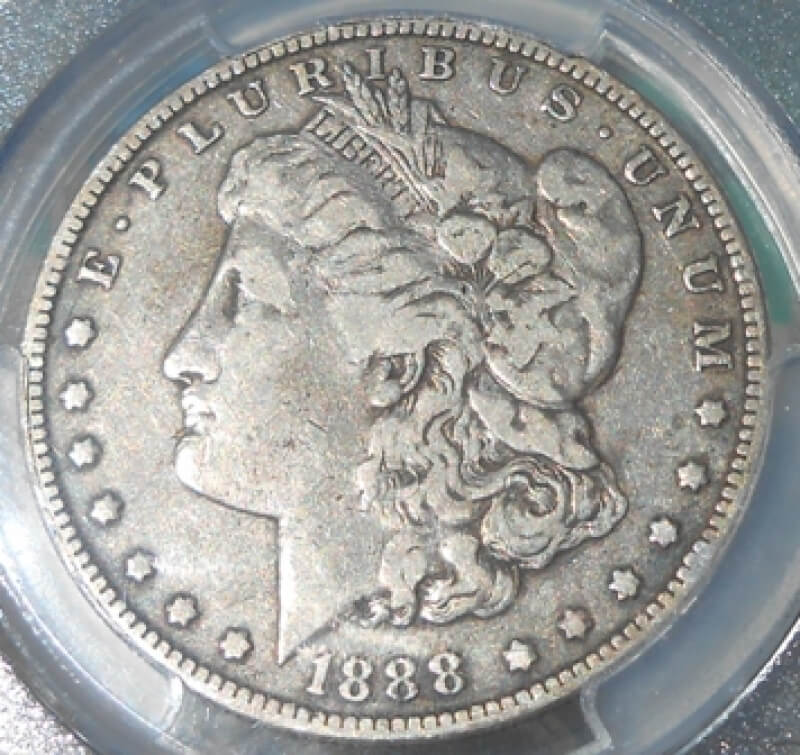 HOT LIPS but not Margaret
Below I have my example of one of my favorite coins. It's a 1888-O DDO. It's not on the label, and it should be, but this is a VAM-4. The much sought after Hot-Lips!! I know it is a bit hard to see due to the lower grade but this VAM helped start everything. Besides being a Top 100, which I explained on earlier blogs, it is a WOW! Variety. The WOW"s are a set of 60 very spectacular varieties. Some are easier to get some are HARD! A complete set is very impressive! It has been said about the Hot Lips "Major Houlihan can't compare to this lovely lady!" That's a reference to the movie Mash for you YN's.
Anyway, the VAM-4 is known for Liberty's profile being so strongly doubled that there is a second complete set of noses, lips and chins that are clearly defined. There are also some other attributes to this lovely Lady for you to look up. I'm trying to get some of you hooked on VAMs. They aren't for everyone but they are a worthy pursuit. Maybe you can discover anew variety. It happens!! This coin in a higher grade is unbelievable!! I hope you enjoyed this little blog and the photos. Please feel free to comment. Thanks for looking. I hope you earned something. Any questions, ask away!
SOURCED:
Top 100 Morgan Dollar Varieties The VAM Keys-by Michael S. Fey Ph. D and Jeff Oxman