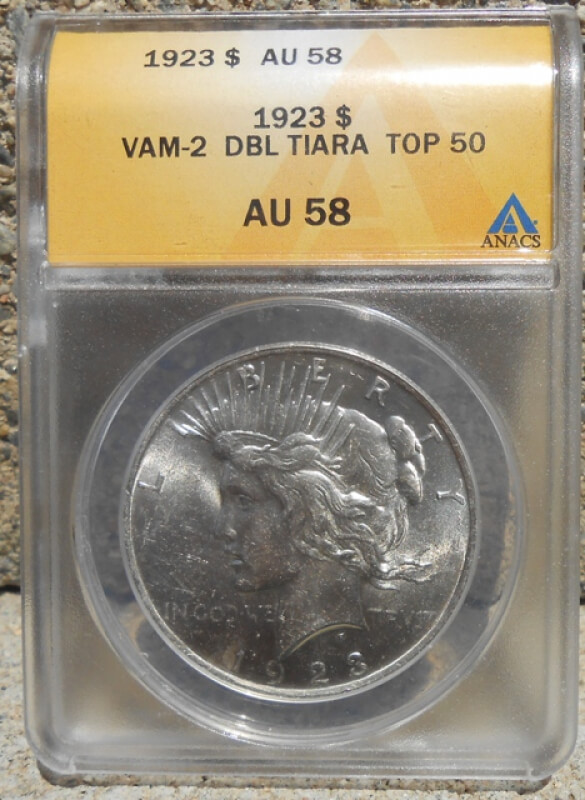 IT'S TRUE ANOTHER PEACE DOLLAR TOP 50 VAM
Since most people here have seen many of my Peace Dollar VAM's, I have decided to just do a smaller blog on my latest pick-up. Below is my 1923 Peace Dollar VAM-2—DOUBLED TIARA—TOP 50. It was slabbed and graded by ANACS as an AU 58. There is a tremendous amount of mint luster so maybe graded a little light. But who doesn't feel that?
The '23 VAM-2 is another of the major die doubling and breaks of 1922 and 1923 peace Dollars. Once again it is thought this was caused by the overuse of the dies. This particular VAM shows major doubling in the tiara as well as the "T" in "TRUST", and the bottom hair curl at the back of Liberty's head. Harder to see is doubling of the designers, Anthony de Francisci, initials. It should be noted that his young wife, Teresa, was his model for the coin. This coin is also a Top 50 Peace Dollar.
I am going to leave it here in the hopes that the reader will research more on their own. Please excuse the glare off the slab in the photos. Thanks for looking. Feel free to comment.
SOURCES:
VAM WORLD 2.0
ANACS
OFFICIAL GUIDE TO THE TOP 50 PEACE DOLLAR VARIETIES—Jeff Oxman & Dr. David Close