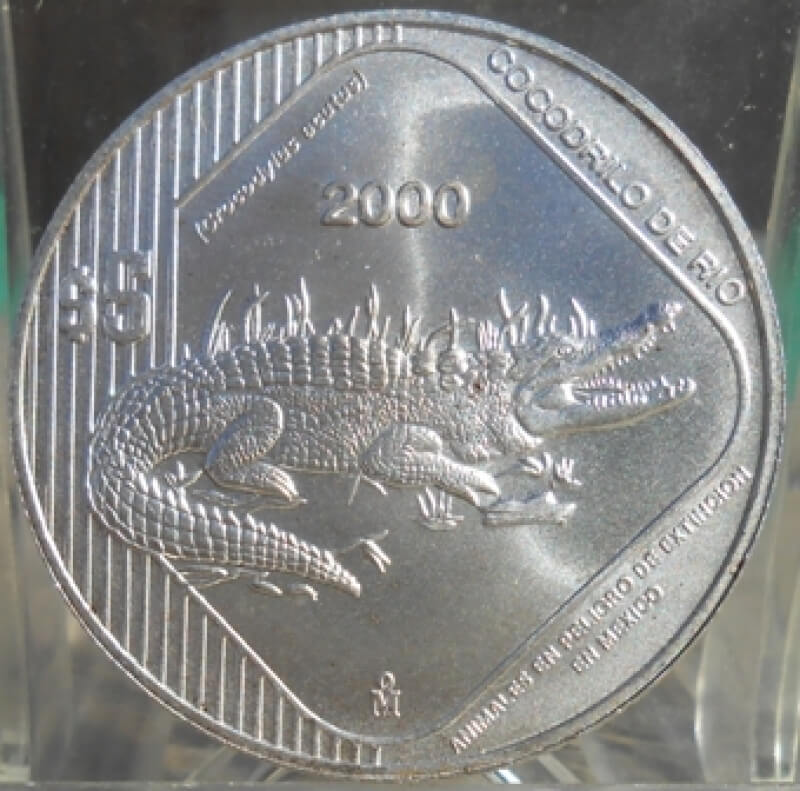 MEXICAN ENDANGERED SPECIES COMMEMORATIVE
Below I have my example of a Mexican Commemorative. It is actually one of the series of Endangered Species in Mexico Collection. That is inscribed on the reverse in Spanish, "ANIMALES EN PELIGRO DE EXTINCION / EN MEXICO". Mine is a 2000 River Crocodile, "CROCODRILO DEL RIO". It shows a great picture of a crocodile centered on the coin. His or hers mouth is opened against a grass background. Above that is the date 2000 and the mint mark of Mexico City below it. To the left of the crocodile is the denomination, $5. To the left of everything is the Latin name of the species, (Crocodylus acutus). It is a very busy reverse but it all fits nicely on the well designed reverse.
The obverse has the National Coat of Arms with the eagle facing left. Above the eagle is the inscription " ESTADOS UNIDOS MEXICANOS". Below that is a half wreath. All 10 different national coats of arms used during Mexico's history are around the outside of the eagle. The coin weighs one troy ounce of .999 silver and is 40 mm in diameter. It has KM #655.
After all these dry facts, I just wanted to show you all a beautiful silver coin. It is beginning to tone and yet has a ton of original luster from the mint. My hope is that the photos will show some of the beauty that grabbed my eyes when I saw this coin. Thanks for your time. Please feel free to comment.
SOURCES:
Whitman Encyclopedia of MEXICAN MONEY volume 2 by Don and Lois Bailey
www.en.numista.com