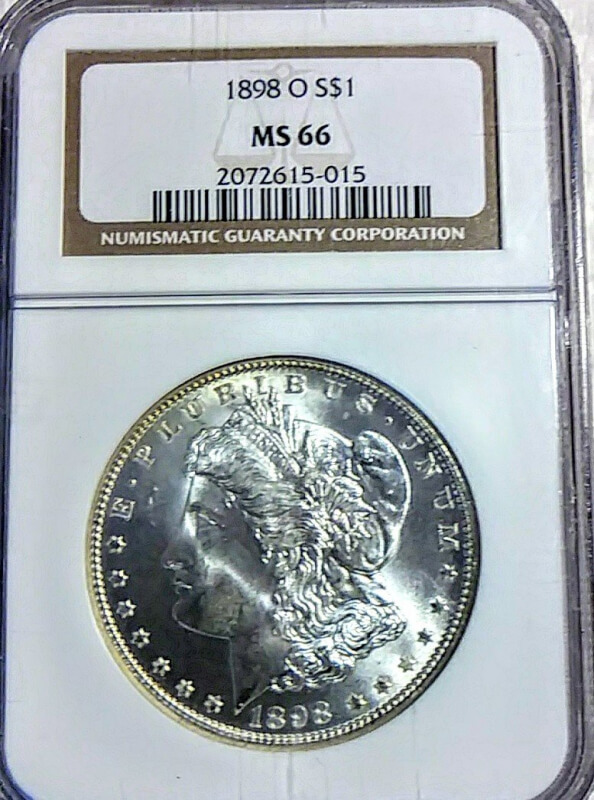 Hi everyone. I decided to write a blog today on a coin  I'm not really a fan of. It never caught my eye. Now I can't remember when I bought this. If anything it has to be an auction. My mentor told me it's America's coin. I disagreed. We all know to put a complete set together would be one of the hardest things to do. The first thing you would need is funds. Even though the price of silver has gone down the Morgan continues to hold its price. 

     Now we know the the history of this great coin. Designed by George T. Morgan. It's the coin of The west being first minted in the Carson City mint. They are the most desirable. That little cc on the reverse is wanted by most collector's. Mine is a 1898 O MS 66. It has great luster and there is not a mark on it. I know the picture shows something on the reverse. It's the camera.  My mentor said everyone should own a Morgan. So over time I picked up about  24. Nothing of great value except my Carson City Coin found in the hoard of the Carson City Mint by the G.S.A. You have seen them they come in packaging with a number most graded by N.G.C.        Now that hoard had a huge impact on the value of some of the coins. Before the coins were found the mintage was very low in some years. When they found them some of the mintages went up by 80%. So if you had a low.mintage C.C.  before they found the hoard your value dropped considerably.. To my surprise there still for sale today. They tone very nicely but many carry the dreaded bag marks on the obverse and reverse..
     Now like my mentor I would suggest you buy one. I would never tell you to buy one. The prices on some are very reasonable. The MS 63 and 64. When your getting a nice coin. Now the New Orleans mint was not known for luster and cartwheels. But there are some like my coin. The luster is outstanding. You can tell by the holder it's a coin that was slabed years ago. The scales of justice . Now Mr. Longstrider is serching for Vams amongst Morgan's and Peace dollars he has already had an article published on them. I hope he finds them all.. Both series have plenty. I even own one. I think it's a Vam three. The stars are doubled. Not all a few.. Now you would think that a coin like this with the grade would command a very high price. It is unremarkable, luster cartwheel but it's not worth a couple of thousand. I never put the price in the blog you can look it up the mintage was 440,000 around that which to me is not that low but low enough. There are only 334 higher in its grade.

    Even though it's not worth a million like some, I still for some reason like this coin. I don't know how they price these anymore. I knew a 66 would be valued high. I checked two places. One is what I would expect. The other I would say is valued at a MS 62. Who knows. It's the joy the coin brings. Not the value. Not the condition. The coin. There are many many circulated Morgan's that are in great shape and they have a patina on them. They go for about forty dollars. To me that's a great deal. Some of them these carry good value. . So I hope you enjoyed this blog on America's coin. Myself I believe the Buffalo Nickel is America's coin. Have a great day. Mike.