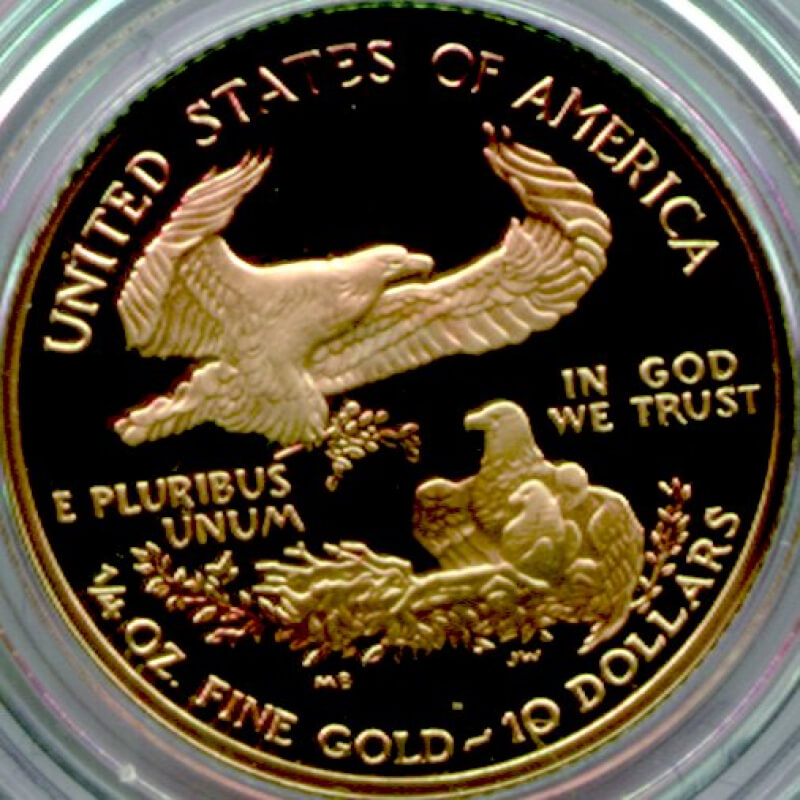 Originally I scanned coins on an HP Flatbed Scanner. But over time I've come to understand that modern digital cameras actually capture even more detail than a scanner, exposing even details not visible by the naked eye. These pictures are scans. The linked images are from a Sony Cybershot camera.
One thing that should be noted here is that these coins, despite the photographs, are very small and thin. They are 18 millimeters in diameter and weight about 4 grams. Compared to a Rooservelt Dime, the dime is 17.9 millimeters and 2.5 grams. And yet, with such a small coin, the detail of the engravings, in my opinion, are very impressive.
Modern American Gold Eagles Today, it is possible to purchase newly minted coins for bullion purposes. These are coins struck for bullion storage purposes, and are not intended to be used for circulation. They can be brought from dealers only execept for special proof versions which can be brought directly from the
US Mint
. iThese coins have the classic obverse of the famous
Saint Gaudens Double Eagle
while the reverse is new. We have just a few of these quarter ounce proofs, since they can cost a fortune. Today's minting processes are so perfect that photo's of multiple examples of proof coins are nearly impossible to distinguish between each other.
In addition, we have a 1/10th ounce coin, which is so small, I don't recommend them as they lose fidelity of much of the image.