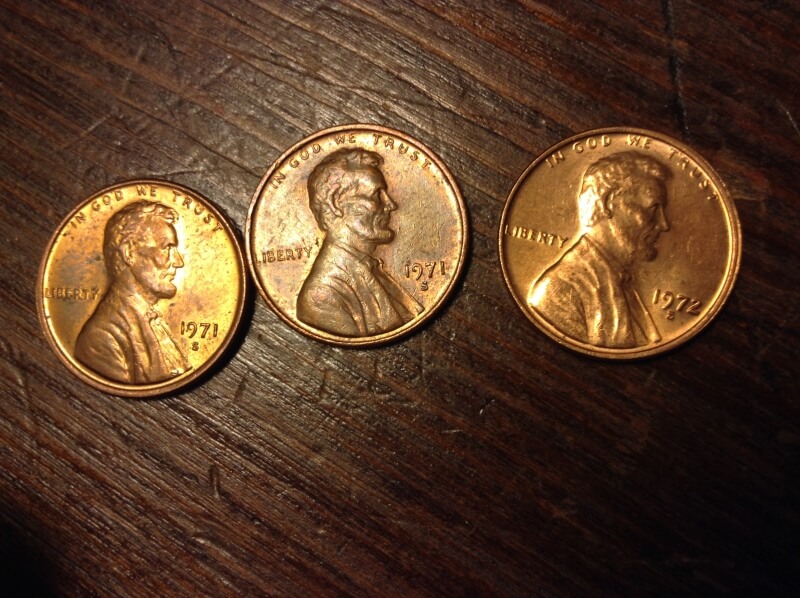 Ok, so on the 10th ( I think) my dad took  me to a bank to get some cent rolls. I didn't have much money so I just got $10 (20 rolls) of cents. I have looked through them for dates but not for varieties. I will go in the order of the pictures I took. Anyway these are some of my finds! :)

My first coin I am to talk about is...interesting but not worth keeping. It is a 1988 penny that is completely white on the obverse but normal on the reverse. I think it got dropped in some paint. Interesting find but I am not keeping it.

Next, I got 2 Canadian cents. The dates are 1993 and 1967. I believe the 1967 one has a commemorative design with the dove on it to celebrate Canada's 100th anniversary, but I am not certain. Pretty cool to find, and they will go into my world coin jar.

The next three coins are slightly more valuable pennies. These three coins are San Francisco cent and two are 1971's and I found one 1972. They are a cool find and are worth about 10 cents each.

 The most exciting pennies I found in this batch of coin rolls were 4 wheaties. From oldest to newest, the dates are 1941, 1953 S, 1956 D, and a 1958 D.The later 50's coins are about XF-40, the '53 about VF-20, and the 1941 about V-12 (don't quote me on this, just a quick estimate).

Based off a blog I read, 2009 pennies are getting hard to find, and from an article on a separate website, the log cabin ones are the hardest to find in circulation. Therefore, I saved all the 5 2009 pennies I found (semi-sarcastic). I luckily found one of each, and TWO of the log cabin coins. The log cabins are both 2009, the one with Lincoln reading a book is 2009 D, the one with him standing in front of a building is 2009 and Unc, and the white house one is 2009 D.

The next coin puzzles me cause I am not sure if it is an error or not. The coin is from 1991, but the "1" is very faint. Can anyone tell me what it is?

These next two coin are slightly off center, pretty cool for me, a YN, and I'm not sure if they have any significant premium. The first, a 1982, has a doubled edge on the right side, while the left has a thin rim. The second coin is 1994 and has no doubled rim that I can see but on the other side there is no rim. Any help on these coins as in value and such would be greatly appreciated.

 Along with these finds, I took out the 200 copper cents that I found. From my coin roll hunting experiences, about 1/5 of pennies are copper

Thanks for reading this blog and I would love to read your comments. Thanks and bye!