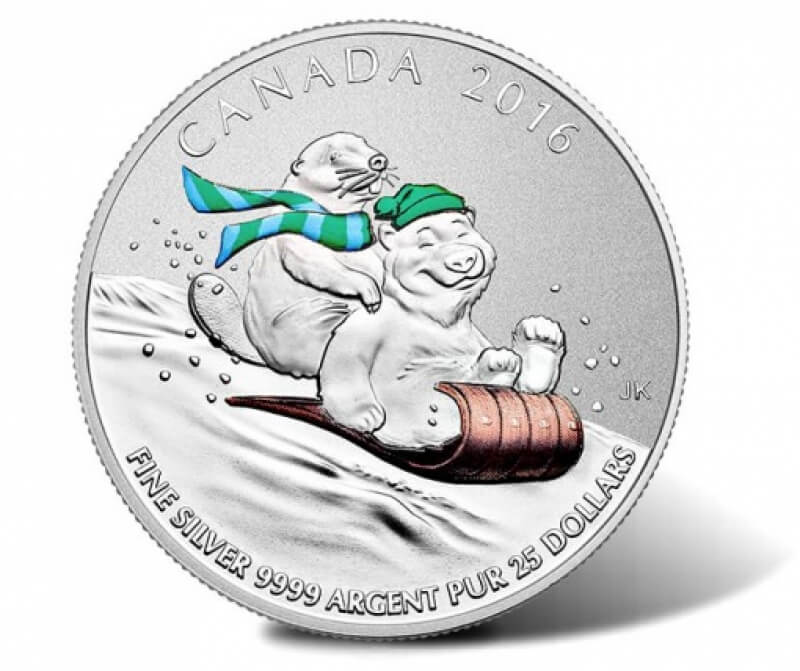 Since it is snowy where I live, I have decided to write about some coins that are winter or snow themed from around the world. I hope you enjoy and I am not too boring.
This first coin is from the Ottawa Mint in Canada and is very beautiful. It was made in 2008 and is face value is $20. The reverse depicts a snowflake inlaid with 6 matching Swarovski crystals. The snowflake design is very intricate. The inscription is CANADA 2008. The obverse features Queen Elizabeth II (which is probably obvious). The coins are also proofs in .9999 silver and the mintage was limited to 7,500 coins.
This next coin is from the Perth Mint of Australia and also features snowflakes. It was made in 2012 and the reverse is a slightly abstract many snowflakes of varying designs with one larger one at the bottom left of the coin. The reverse shows Queen Elizabeth II again and the inscriptions are Australia, 1oz 999 silver, 2012, and 1 dollar. A special feature of the coin is a clear locket containing various semi precious gemstones. The proof coin has a limited mintage number of only 5000 pieces, which is a considerably low amount of coins.
Another coin from the Royal Canadian Mint (they make way too many snow / winter / Christmas themed coins, but still check them out they are cool!), features something I did today: sledding! The coin depicts a baby beaver and a baby polar bear on a toboggan down a hill. The reverse is also partly colorized with the words CANADA 2016, FINE SILVER .9999, ARGENT PUR, 25 DOLLARS. However, the coin is not 1oz of silver and actually weighs 7.96 grams which is less than 1/3 oz but more than ¼ oz. The obverse obviously depicts Queen Elizabeth II. The mintage is 200,000 which is a much higher mintage than most non-bullion coins that world mints make.
This last one is not a coin and is a banknote instead. It is a 100 rouble Russian note to commemorate the 2014 Sochi Olympics (XXII). It was first released in October, 2013 and has a total mintage of 10 million pieces. It depicts a snowboarder in mid-jump with a mountain in the background and some thing below him. The reverse shows what I believe to be the stadium. Also a red eagle is shown near the top. In the background are various figures of different sports in little diamonds. On both sides of the banknote is 100 and some Russian words.
Thanks for reading this fairly long article and I hope I haven't put you to sleep. Talk to you in my next article guys. Bye everyone and comment down below.