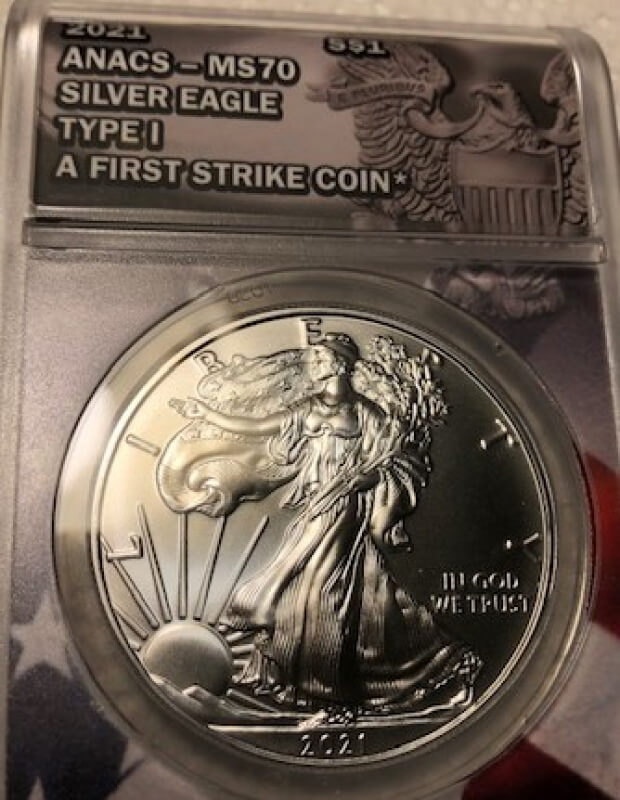 Top O' the morning folks!
     I wanted to briefly discuss American Silver Eagles today since I've recently acquired a couple. I don't have enough of them for a collection, but I did do a little research to find out about this great coin. It was designed by Adolph A. Weinman (obverse) and John Mercanti (reverse). It weighs in at 31.101 grams, is 40.6 mm in diameter, and is composed of .999 silver, and .001 copper, and has a reeded edge. It has been minted at the Philadelphia, San Francisco, and West Point mints. The United States bullion-coin program was launched the year I completed my active duty service, 1986. The Mega Red book outlines the history of the American Silver Eagle (ASE) starting on pg. 1239 and ends on pg. 1271 and is very interesting.
     I purchased my 3 ASE's for one reason: to own  a piece of history. I bought the 2020 PCGS graded, MS70 first right after I heard on television that it was going to be the last year of the current design. As the slab indicates, it's a "First Strike" and I wanted to have a coin to inspect and compare other coins to for grading purposes. The next ASE I got was the 2019.  Of the 3 ASE's I currently have, this one is the lowest cost one. I have a Collectible Coins of America collection that required a American Silver Eagle, so I used this one to fill that slot. The third one I received last weekend, and it's the 2021 ASE, type 1. I signed up to have the 2021 ASE, type 2 sent automatically when it is released in mid-July.
     One of the dealers that I occasionally do business with had the following headline on their website: 
"Update From the United States Mint 10/1/2020: New Silver Eagle Reverse Design Revealed"

On October 1, 2020, the United States Mint revealed the new reverse design that will appear on American Silver Eagles in mid-2021. The Mint will also release some 2021 Brilliant Uncirculated issues featuring John Mercanti's original reverse design, with the new reverse being released later in 2021.
The new reverse design offers a fresh perspective on a numismatic icon. The reverse still features a bald eagle, but this time, about to land from a flight. The eagle grasps an oak branch between its claws, perhaps to build its nest. This reverse design was crafted by Emily Damstra, a member of the Mint's Artistic Infusion Program (AIP), and was sculpted by Mint artist Michael Gaudioso.
      I collected these 4 American Silver Eagles to own a piece of history. It isn't every day that a coin's design is changed, and I'm not sure how the numismatic world will accept this new design, but I personally like it. I'm only starting out getting 4 coins due to the fact that like "Stumpy", I'm also frugal when it comes to my personal collection. It goes without saying that Mega Red don't have any mintage figures yet, so I guess you could say "the jury's still out".  Recently I've expanded my collections and will soon be posting about the additions. It takes me a while to get pictures to go along with the  post. As always, stay safe, HEALTHY, and coronavirus free and when available, get your vaccine! Talk to everyone again soon!
Charlie aka slybluenote