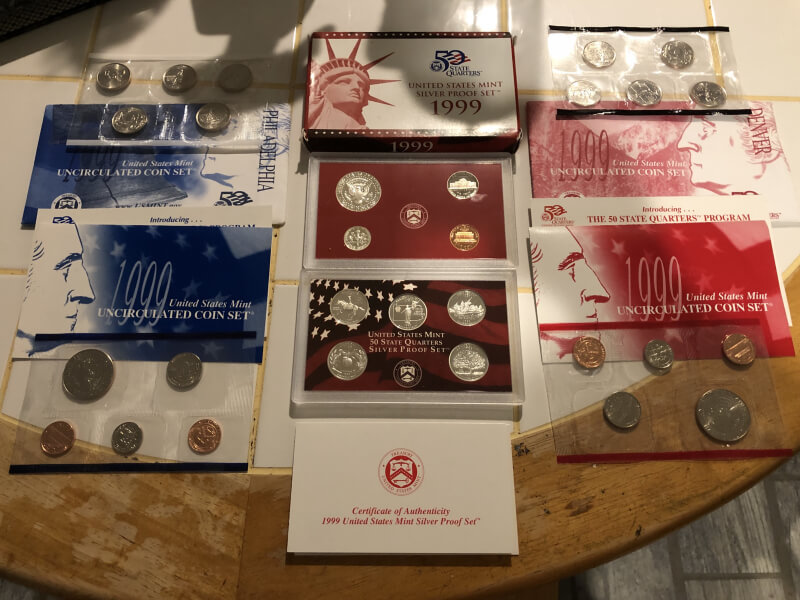 Back in 1999 I was working for the "Deep State" and didn't realize it, but my life was about to change in a MAJOR way. I generally try to stay away from hospitals, but this particular year I was more than happy to be at this facility. Watching the birth of my daughter was an AMAZING thing! Since she is an only child, I was really concerned about being a good dad! The jury is still out on my last statement.
     I got a GREAT deal on the Philadelphia and Denver sets from my local coin dealer. Unlike the U.S. Mint, their coins came in cellophane, hence the reason for the price. San Francisco on the other hand is a different story. As usual, one would expect to pay more for the 1.33 Troy ounces of silver. In my humble opinion, another driver of the price of this set is the low mintage;  804,565 ! My thought was, she is my girlfriend so therefore she's worth the extra expense  :-))  According to My Coin Guide, "The change and variety offered by the series would reinvigorate the hobby of coin collecting and draw specific interest to many modern issues." Since this was the first year of the State Quarters Program, it made sense to me to own the silver proof set. 
     I've just finished adding this set to my collection, but I did make an error. There are duplicate entries for this year, but that's ok, they're beautiful coins. This set is the one that led me to the conclusion that San Francisco makes a better product than Philly and Denver. This is just my opinion and subject to change. Until next time friends and family, stay SAFE, healthy and coronavirus free!
Charlie aka slybluenote