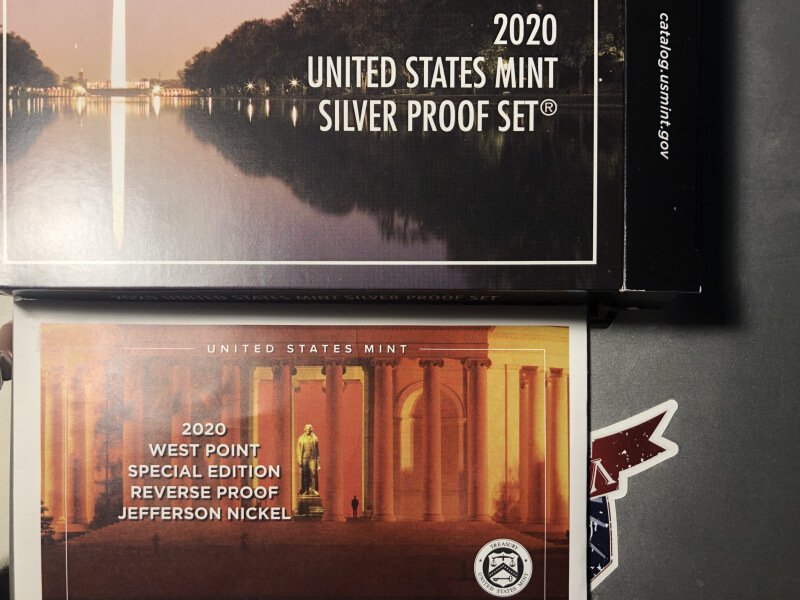 Well, at least April wasn't a complete disappointment. I received my program 2020 Silver Proof Set complete with the 2020 Reverse proof nickel from the West Point Mint. This is a beautiful set and inspecting it made me feel like I made the right decision to enroll. It still don't alleviate the losses of family members to death this month, but it did provide a bright spot in a month filled with sadness and darkness. It gave me pause to reflect on positive things in my life versus the negatives, so I live to fight another day. Now that I've started getting older, collecting coins is fitting right into my life style. Looking at the craftsmanship of the silver proof set makes me recall good memories. I'm so fortunate to have acquired the 2020 Kennedy Half dollar, but I also enjoy the ATB quarters also. And, like last years penny, the nickel is immaculate.
     I only own 3 proof sets. I purchased my first one from my local dealer for $16 ! It was the 1999, the birth year of my girlfriend. She has a very easy birthday to remember;  111999 ! Although it wasn't silver, like the other 2 that I own, it was an important date. Don't get me wrong, it's a nice set, just not silver. After that I discovered on the U.S. Mint website, that there was a program that I could enroll in where they would send me the Silver Proof Set every year automatically. This was certainly a convenience for me so I purchased the 2019 Silver Proof Set with the penny from West Point thrown in as a bonus, and now, yesterday I received this years silver proof set. About six months ago while watching television, I almost bought one of those deals that you see on coins. It was all the proof sets for a little over $400. I decided a couple of days later to cancel the order. My credit card couldn't stand the pressure.
     I saw online information about the 2012 Silver Proof Set which I've been seriously thinking about. The commercials pop up on my lap top all the time now about companies wanting me to purchase this unique set. My research indicates this was a low mintage proof set, and the fact that it's silver probably drives the price up a little more. Amazon is advertising it for $245 but that only gets you 9 coins. Littleton Coin throws in the Presidential dollars (5 more coins) for another $120. I'm just not sure that it's worth it yet. I'm still trying to make up my mind. It's an important decision for me to make since, to me, it's a lot of money! 
     In closing, not only do I now own a beautiful Silver Proof Set, but I'm blessed to have such a beautiful family. In these days and times I'm starting to realize that in itself is a commodity! Enjoy the pictures and until next time, stay SAFE, healthy, and Coronavirus free my friends!  
Charlie aka slybluenote