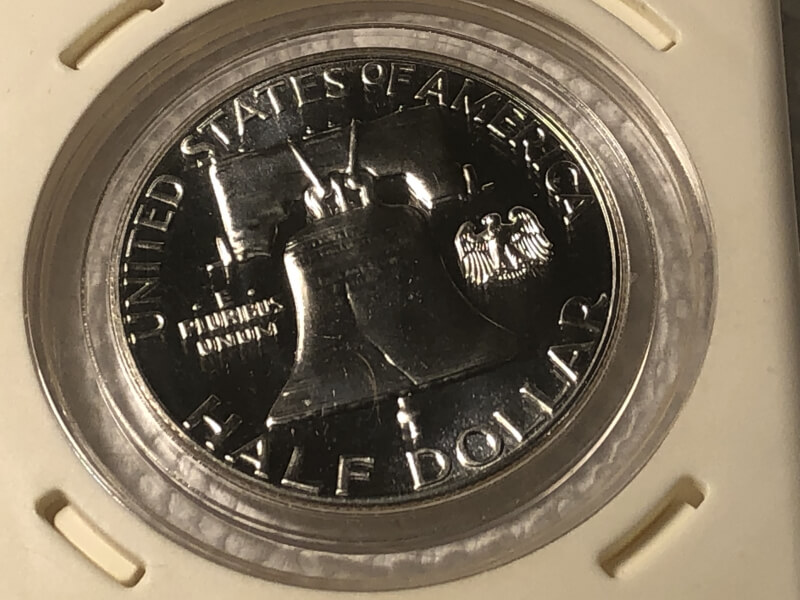 Good morning folks!
á á áI recently was at a local coin shop in my area and noticed a label that housed a 1963-P Franklin Half dollar. This dealer had a stack of approximately 15 of these coins, all priced at $22.00. He told me that he had gotten the coins at an auction and proceeded to tell me the story behind the label. I bought one of the coins just for the label. The 1963-P Franklin Half had a mintage of 25,239,645, weighs 12.5 grams, and a diameter of 30.6 mm. It's metal composition is 90% silver & 10% copper. The designer was John R. Sinnock and it has a reeded edge. A 1963 proof Franklin Half has a mintage of 3,075,645 according to "https://franklinhalfdollar.org/1963-franklin-half-dollar/". According to the label on the coin that I bought, it's a "Proof 64". The price of this coin is in line with the price listed in "https://www.usacoinbook.com/coins/2875/half-dollars/franklin/1963-P/".á
á á áNow for the story behind the label. Hannes Tulving was the owner of a coin and precious metals company back in 2013/2014. He went to jail in 2016 for defrauding 380 customers of over $15 million dollars. He was running what the coin shop dealer told me was a "ponzi scam". He advised me to look it up when I got home, which I did. According to the Dept. of Justice web site, "District Judge Max O. Cogburn, Jr. sentenced Hannes Tulving, Jr., 60, of Newport Beach, California to 30 months in prison and three years of supervised release.á The company was ordered to pay a $10 million fine and was placed on a probationary period of two years." Some of the victims that had lost a lot of money and only saw pennies on the dollar for their recovery! Since there is a spot in my Collectible Coins of America for a Franklin Half dollar, it made sense to me to include this coin in my collection. It might not even be legit, but as the title implies, I bought the label! I still haven't figured out what the number "357034" stands for, but I'm thinking that's how many coins were sold.
á á áIn conclusion, there are a couple of websites where you can learn more about Hannes Tulving. The Dept. of Justice website, "https://www.justice.gov/usao-wdnc/pr/federal-judge-sentences-coin-and-precious-metals-dealer-and-his-company-defrauding-over" and the newspaper site "https://www.ocregister.com/2016/11/15/coin-dealer-jailed-but-victims-of-his-nearly-18-million-scam-may-not-get-their-money-back/" and CoinWeek "https://coinweek.com/bullion-report/court-imposes-15-7-million-penalty-lifetime-ban-against-precious-metals-dealer-hannes-tulving/" ! As always, stay safe, HEALTHY, and coronavirus free ! Enjoy the pictures! P.S. I've included a book I've recently read that includes some of my activity while working in the "Deep State" ! Well worth the read !