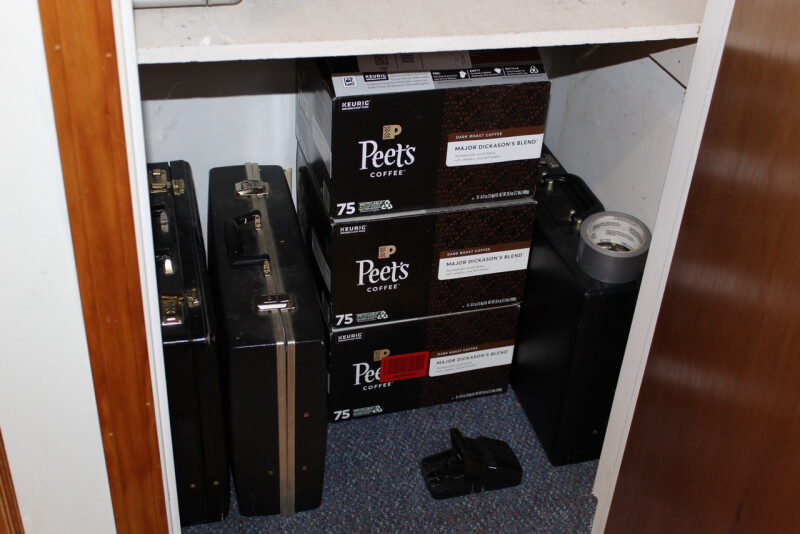 Good afternoon folks!
     Just wanted to touch base with everyone and wish them a Happy New Year and I sincerely hope it is better for everyone!  A couple of weeks ago my sis-in-law mentioned that my collection was a little "askew"! She suggested that I could move her things out of the closet in the living room and use it to store my coin collection in it. I agreed and it took me a little while but I finally got everything moved into it. I call it my "new digs". I also have the option of changing the door handle and putting one that locks on it. The only thing I've changed is I went to Home Depot last week and bought a dehumidifier and placed on the top shelf. I have to admit that I like the idea of having the complete collection in one place.
     I also decided to complete my year end inventory earlier this year. Last year I did it in Feb. but just wanted to get it done earlier this year. WOW, I'm glad I did. I think I mentioned it earlier, but a coin collection is just like a garden. You have to pull the weeds every once in a while and if you water it, it will grow!  On top of it all, I've been attempting to learn how my new digital camera works. So as you can see, I've been keeping busy the last few weeks. Another reason I've been absent is having to learn some of the minor differences between my Chrome notebook and this Lenovo. I am making progress though.
     In conclusion, everyone that values their collection should attempt to properly take care of it. Check out the pictures that I took with the new camera and let me know what you think. It's the first ones, but there will be more for sure! Again, Happy New Years to you and your families! Stay safe, HEALTHY and coronavirus free until the next time! P.S., the "pack leader" added a new member to our family! His name is "Lil Moe"!
Charlie aka slybluenote