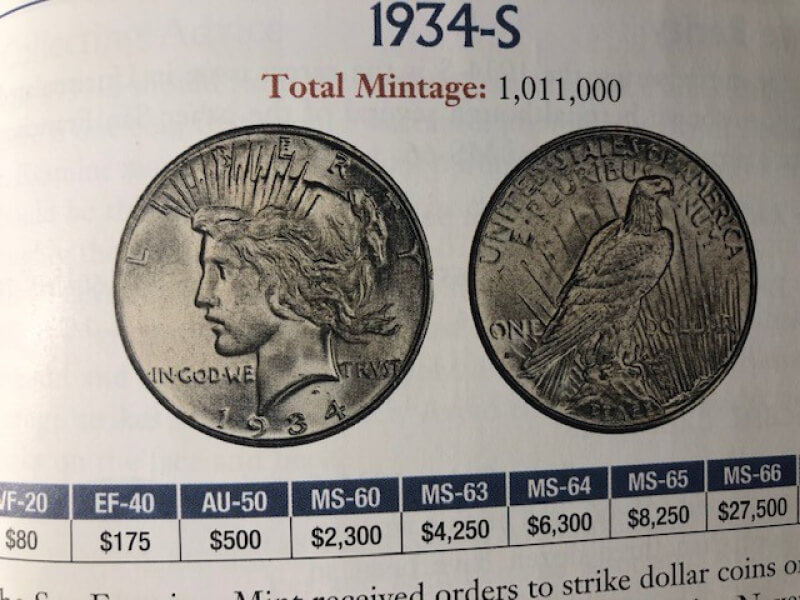 Peace Dollar Collection Update
Top O' the morning folks!
     The discussion this morning has been inspired by Mokie, Gary, and MikeB. As most of you know, I started a collection of Peace dollars back on Jan. 1st, of this year. Naturally, following the rules, I went and purchased "the book".  I've completed my reading and like any good student, have learned quite a bit about these "heavy hitters" (Peace dollars) ! The designer of this coin was Anthony de Francisci. He was among 8 New York area artists that were invited to submit designs for the competition. This information is derived from the book "A Guide Book of Peace Dollars" written by Roger W. Burdette,  4th Edition.  I strongly suggest this publication to anyone that is interested in collecting Peace dollars. This coin was to signal the end of the great war (WW1) which was why it was named the Peace dollar. In early Jan., 1922, Treasury Secretary Mellon said: "This new design will be known as the Peace Dollar and is so named  in honor of the Conference on Limitation of Armaments." Also involved in the engraving of this coin at the Mint was George T. Morgan. Morgan worked for many years as an assistant under the Wyons at the British Royal Mint. In 1876 he was brought to the Philadelphia mint as a "special engraver" reporting directly to Mint director Henry R. Linderman. To put it mildly, there were problems with the production of this coin from the start. To sum up this book in just a few words, I.R. Bama would be proud of the amount of research that Roger Burdette put into this publication.
     Since my Jan. 1st post, I've decided on a storage plan and after reading the above publication, an avenue to proceed with my collection. I decided to slab my collection in favor of keeping them in a folder. The reasoning for this approach is simple: if it's good enough for my Kennedy collection, then why not use it for my Peace Dollars. I'm familiar with this concept and know it to be effective. If you've visited my collection page recently, you'll notice that I've already got a few items entered.  Per the book's suggestion, I'm going to focus my resources on purchasing a quality 1934-S which is a key date  and one of the more costly pieces of this collection.  I'm also going to pay particular attention to the 1928 which is also a semi-key date and is also of considerable cost. As I stated back on Jan. 1st, I know this collection is going to send me into the field of "High Finances"! Another reason why I like the way this book was written is at the end of the review for each year is a segment called "Collecting Advice" which contains tips on how to collect that particular year. This information is found in Chapter 9 along with a "TON" of other useful pointers such as Relative Rarity, Significant Examples, and Varieties. 
     As always, enjoy the pictures, stay safe, HEALTHY, and coronavirus free. It has been a week since I've had my second vaccination and I'm still alive! According to the Dr.'s it takes 2 weeks for the shot to be effective, so I guess I have 1 more week until I'm actually safe. So I continue to "double mask" to stay safe and will continue to do so until the CDC says otherwise. Talk to everyone again soon!
P.S. Did I mention that the little old lady in the middle is the one that gave me the 1921 Peace Dollar that started my collection? Thanks mom & RIP!
Charlie aka slybluenote