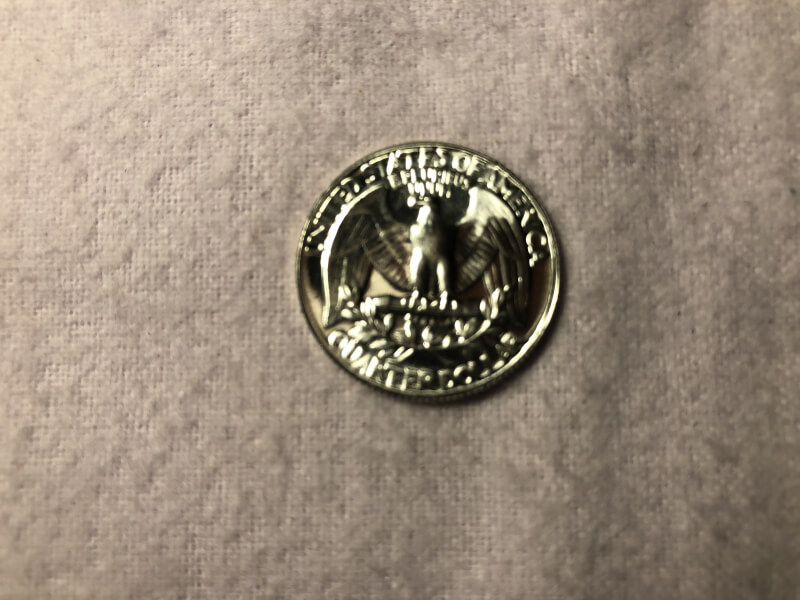 Being born and raised in Virginia, I'm partial to 3 seasons; spring, summer, and early fall. I think it's due to being a Scorpio born in November 1954.  After the winter comes spring though. Looking at my latest addition to my quarter collection makes me reflect upon years past and think about the beauty of the spring season. Although it's going to be more difficult this year due to situations beyond my control, I will still enjoy watching the bushes and trees start their greening for sure. You know, it's always been the same with me. My first 6 and a half years of life, I was a country boy. Mama would never let me pick the tomatoes, but I could sit in between the rows of potatoes and dig them out of the ground. I could pick the cucumbers, carrots, beans and strawberries when they came in season. The picture in this blog is of me standing by the edge of the garden circa 1959.
     This morning as I was learning the mintage of the 1954 Silver Gem Proof quarter I had purchased, I was struck by the beauty of the coin. My grading standards says it's definitely a MS-65 but has potential for MS-67.  The mintage of this coin was 233,300. John Flannagan's bust is near perfect on this coin. The fields are clear and the eagle on the back is hearldic! Examining this coin made me think of the old expression "you get what you pay for" and this is a classic expression for this coin. I paid $19.95 for the coin, and to me it's worth every penny of what I spent! Although I bought it online, I could tell from the picture that it was going to be nice. This is the start of my "birth year" silver proof set. I've already purchased the dime and have it in hand. I've got the Franklin half, nickel, and penny in my wish list with the Franklin Half the most expensive at $27.95, which is why I haven't acquired it yet. In time all good things will come. I have started thinking about storage though. At first, I was thinking about buying one of those "birth year" slabs, but then thinking that I have individual slabs already, and that would save me some expense. So I'm going for the individual slabs with a rubber band to secure all five slabs. Then, since they're all silver, except for the penny, they'll be stored in my "silver box" that I have pictured in my "storage blog". What a nice addition if I do say so myself.
     In closing, I will invite you to enjoy my spring beauty with me.  I'm a home body to start with, so the self quarentining doesn't really bother me that bad. I do go out to get the mail and to take the trash down to the side of the road. I also walk Jackson (my dog) every couple of days weather permitting. I do make the occasional trip to the store, but my girlfriend, wife, or sister-in-law actually go in to get the groceries. By the next time I blog, I'm considering changing my profile picture to show off one of the masks that I wear when I do venture outside. Until then my friends, stay SAFE and healthy during this pandemic that we're all suffering through and just remember, "We're ALL in this together"!