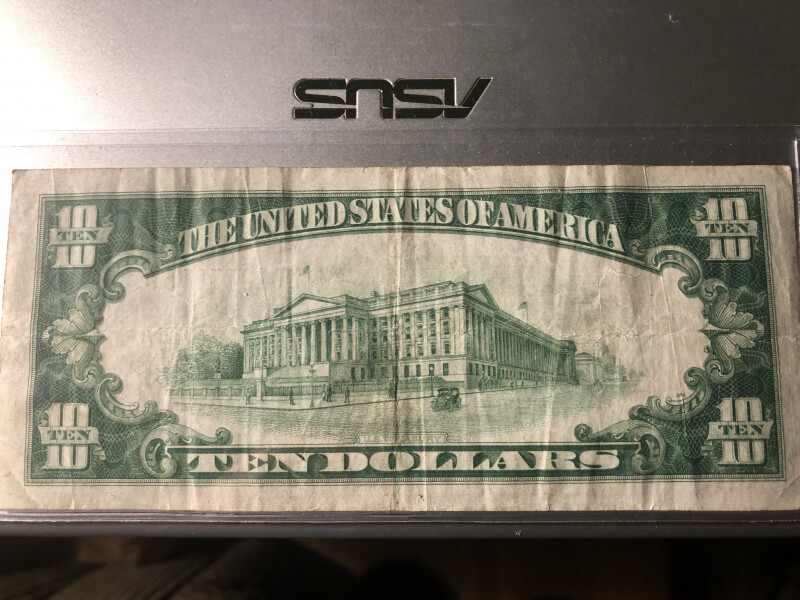 Good evening folks!
    I know that it's strange for me to be blogging at this time of day. I usually like to blog early in the morning when my brain is fresh and my thoughts are more coherent  :-))   Football is back on television although there are no crowds. Anyway, I'd like to take a few minutes to talk about my latest purchases, one of which was a 1934 ten dollar bill from the Federal Reserve Bank in San Francisco. Since my mom was born in 1932 and my step-dad even before that, I took the time to read a couple of articles about the great depression and when I was at my local coin dealer's shop this past Saturday, I saw the 1934 note.
     I'm not usually attracted to paper currency, but when Mark, my local dealer, commented that it was a nice piece of currency, I decided to purchase it due to the above reasons. I had heard about the great depression in school and basically knew what it was but hadn't really examined the causes and effects that it had on the world economies. This particular bill which I've heard my step-dad refer to as a "sawbuck" more than once  comes in 2 varieties. One is called a "LGS" which stands for light green seal and the other is a darker blue-green seal. The LGS is generally worth more money. One article that I read says "The 1934 series $10 bills with the light green seals are worth around $20-35 in very fine condition. In uncirculated condition the price is around $100-150 for bills with an MS 63 grade." This information comes from https://www.silverrecyclers.com/blog/1934-10-dollar-bill.aspx . This price in inline with the $28 that I paid for mine.
     Although my mom or my step-dad didn't speak very much about the depression, I knew that "THEY" knew what hard times were about. The sawbuck that I purchased could have possibly been one that helped the economy bounce back, who knows? I do know one thing, the effect that this pandemic is having currently on our jobless rate and economy is wreaking havoc. It certainly causes me to stop and think. I do know one other thing and that is a bad day at camp is better than a good day at work! Enjoy the pictures of my mom, step-dad, and me along with pictures of my 1934 LGS sawbuck!  As a side note, here is the history of why a  ten dollar bill is called a sawbuck. To quote wikipedia "sawbuck is a slang term for a ten-dollar bill, from the image of the Roman numeral X and its resemblance to the carpentry implement." My step-dad had been a carpenter his whole life. 
     In conclusion, let me leave you with the website where I read about the Great Depression:  https://www.britannica.com/event/Great-Depression/Causes-of-the-decline . This is a great article and explains several reasons for the "Great Depression".  As always, stay safe, HEALTHY, and coronavirus free until next time.
Charlie aka slybluenote