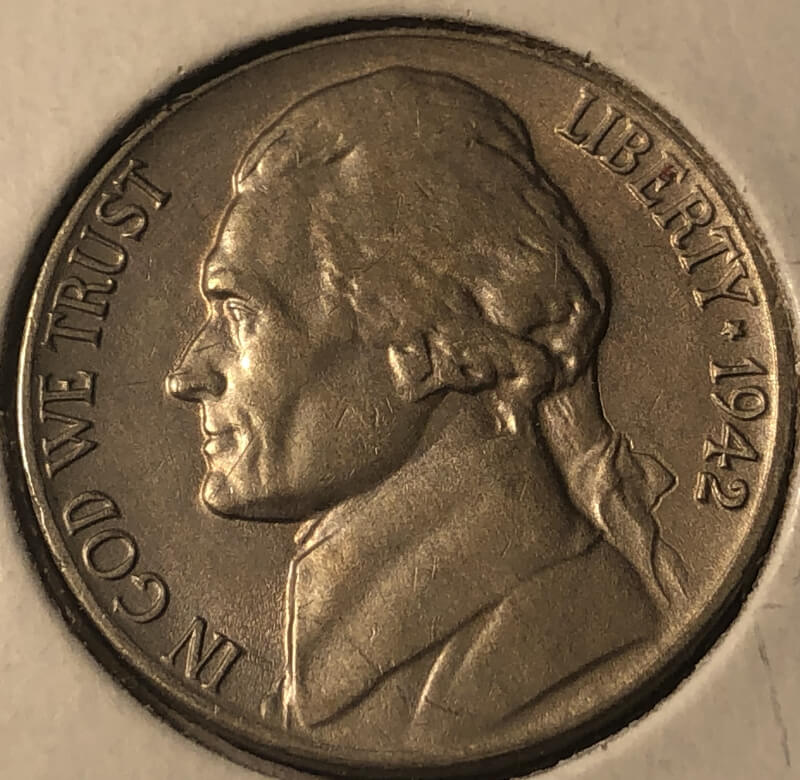 The Wonderful World of Jefferson Nickels
     Top Oā€™ the Morning folks!
     Let me start by giving you the ā€œspecsā€ on this particular breed of coin. It was designed by Felix O. Schlag, weighs in at 5 grams, is composed of .750 copper, .250 nickel, a diameter of 21.2 mm, a plain edge and was minted at Philadelphia, Denver, and San Francisco. While reading the book, šŸ"– , yes I actually bought and have consumed most of ā€œA Guide Book of Buffalo and Jefferson Nickelsā€, I have to admit that I really enjoyed reading about the designer of this coin. Heā€™s from Chicago and has a very interesting past. This and other pertinent information about this coin is contained in Chapters 7 and 8. I could probably write a short essay on these 2 chapters, but if youā€™re really interested, just go out and purchase a copy. For todayā€™s post, weā€™ll just discuss the coins that are pictured. I recently purchased these from my local coin dealer and a couple of them were a ā€œlittleā€ pricey, but thatā€™s okay because I wanted nice ones for my collection.
     First up is the 1960-D, circulation-strike mintage 192,582,180. This is a very nice coin with a fairly good strike. The only problem with this coin is the small scratch on the reverse over Monticello. Next is the 1938, which is the first year of issue, with a circulation-strike mintage of 19,496,000 and is also a nice looking coin from that era. The proof mintage for this coin is 19,365. Next is the 1939 and the circulation-strike mintage for it is 120,615,000 and the proof mintage is 12,535. This coin is also well struck and has good luster. The last coin is a 1942-D, variety-1 with a circulation-strike mintage of 13,938,000. Variety 2 of this coin was made at San Francisco and was the first strike of the ā€œsilver-composition ā€œ wartime nickels. As in the 1941 coin, this 1942-D doesnā€™t have a lot of luster, which is typical per the book. The reverse of this coin does have a couple of problems, but overall is a fairly good strike.
     I will never be as knowledgeable as Bernard Nagengast or Darryl Crane, but I do understand the concept. Learning the difference between 5-steps and 6-steps, sharply defined steps, ā€œThe Jefferson Nickel Analystā€, and reading about the Full Step Nickel Club and Jonah Shapiro, from Syracuse, N.Y., (which is a large city that I live near) who collected quite a few of the 1950-D nickels when they first came out. These 2 series, the Buffalo and Jefferson are actually quite complex when it comes to grading and collecting! As Mr. Bowers indicates in his book, there is the ā€œcasualā€ collectors and the ā€œspecialistsā€ collectors. Iā€™m definitely in the casual spot for sure!
     As you can see by the last picture which is my jewelers tray, Iā€™ve been pretty busy lately. Iā€™ve built a inventory spreadsheet to track my coins, but itā€™s only about 80 percent complete, while also working on this yearā€™s inventory. I guess everything is going to be good. Like I tell the folks at the grocery store, ā€œI got more time than I do moneyā€ā€¦. lol šŸ˜†! Anyway, the ā€œfeels likeā€ temperature here is -5, so Iā€™m considering going out and buying a heating  blanket this weekend. Join me next time when weā€™ll discuss Mr. James Earl Fraser and his Buffalo šŸ¦¬ nickel. As always, stay safe, HEALTHY, and coronavirus free!
Charlie aka slybluenote