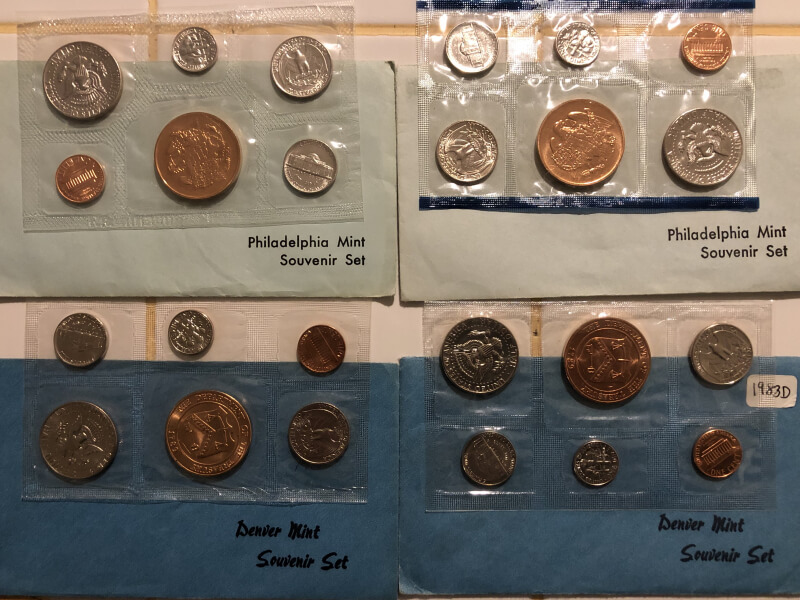 Good morning folks!
     I've heard it said that "tough times don't last, but tough people do." This is apparently true in the case of the 1982/1982 Souvenir Sets. I obtained the 1983 P&D Souvenir set from my local dealer, Mark, at CNY Silver. He told me that he thought that he also had the 1982, but must have sold it earlier. I finally got the 1982 Denver Souvenir set from Daves Coins. Although below Mega Red Book price, it wasn't that much lower. I found it harder to obtain the 1982 Philadelphia Souvenir set, but finally got one from CollecTons.com also just a little under the Mega Red Book price. It finally made sense to me the reason for these sets scarcity. In order to understand this scarcity,  circumstances behind the absence of 1982/1983 mint sets, requires a greater backstory for the period.
     This information comes from a great article in CoinWeek that was published in Oct. 2016, which can be read at: https://coinweek.com/modern-coins/collecting-us-coins-modern-rarities-1982-1983-souvenir-coin-sets. Not only was there an economic crisis occurring during this time in history, there was also a legislative/administrative event going on as well. In January of 1981, longtime Chief Engraver Frank Gasparro retired creating a vacancy at the U.S. mint. Shortly after becoming President, Ronald Reagan replaced Stella Hackel Sims, the Director of the U.S. Mint with a lady named Donna Pope. Hence it was the perfect storm for no "official" U.S. mint sets for the 1982/1983 years. Mr. Frank Gasparro was eventually replaced with the first woman and the 11th Chief Engraver, Elizabeth Jones. She started her tenure by designing the 1982 George Washington 250th Anniversary half dollar, the first United States commemorative coin since 1954. According to the above article "Mint sets hit the chopping block because Mint officials figured that collectors could obtain the same uncirculated coins through bankrolls and mint bags."
     So it's no wonder that these sets have been called "modern rarities". Over the past 34 years these sets have risen in prominence as scarce collector items. The above article lays out the roles that socio-economic policies and governmental administrative/legislative policies play out in the world of numismatics. As always, enjoy the pictures, stay safe, HEALTHY, and coronavirus free until the next time we talk!
Charlie aka slybluenote