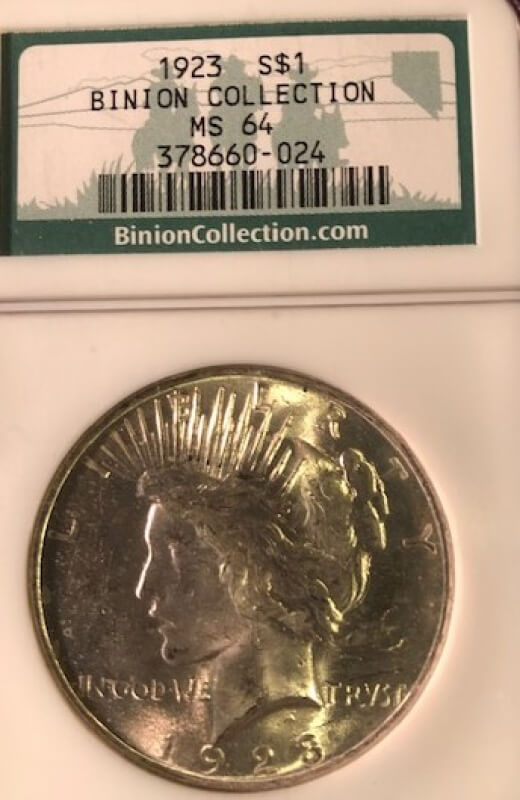 Top O' the morning folks!
     As promised in my last post, I would like to talk about Peace dollar hoards today. This post should have been last April for the "Big,  Bold, Coin Week"! Oh well, it's the story of my life, a day late and a dollar short. I'm not sure if everyone is aware or not, but I don't usually purchase coins/money from ebay. At first, I was only going to talk about the Binion hoard today, but yesterday, the second coin that I have ever purchased from ebay arrived. It was a 1923 "GSA" hoard Peace dollar. I have one more to acquire which is the Redfield hoard Peace dollar. It's no wonder that both of these specimens are from the year 1923. As "My Coin Guide" states "Although the overall mintage was not the highest at 30,800,000 pieces, substantial quantities of the coins survived undisturbed for years in mint bags, providing an ample supply for future generations." The specs for these coins are they are both from Philadelphia, are 90% silver, 10% copper, weigh 26.73 grams, and the diameter is 38.1 mm.
     I really enjoyed doing the research on the Binion hoard because of the history of the coin. Not only does Ted Binion play a role, but NGC does as well. On 15 Jan., 2002 they posted an article on their website about these coins; "https://www.ngccoin.com/news/article/37/Ted-Binions-Silver-Dollars/". To obtain an even more complete picture of the history/pedigree of this coin I read another article from CoinWeek. You can find this article at https://coinweek.com/coins/certified-coins-news/pedigrees-hoards-the-binion-hoard/ . The article by Rick Bretz sums up the story behind this coin by stating "The Binion Hoard offers the collector a variety of ways to collect coins, currency and memorabilia like ashtrays, dice, gambling equipment, photos, casino chips, etc. A collector could assemble a traditional date/mintmark set, or he could choose to assemble a set of the various souvenir items available. But first, who was Ted Binion, and what is the Binion Hoard? In case you missed the Court TV documentary about him and didn't read any of the several books written about him or his father, here it is in a nutshell:". 
     Although the GSA hoard story doesn't have the allure or mystery behind it, it's a story that needs to be told as well. For the information about this hoard, I relied on the "Guide Book of Peace Dollars" by Roger Burdette. After spending 27 years in the employ of the U.S. government, I can honestly say one thing: if there's ANY way something can be messed up, the government is more than qualified ! "By March 26, 1964, the Treasury's inventory was down to approximately three million coins, most of which had been struck at the Carson City Mint during the 1880's. To prevent inequitable distribution of these pieces to speculators, Treasury secretary C. Douglas Dillion suspended redemption of silver dollars for paper currency and later transferred the coins to the GSA for public sale." 
     As I reflect on our great nation's birthday this weekend, I'll be looking forward to completing "the trifecta" of obtaining a Redfield hoard Peace dollar. It is my hope that each and everyone of you who read this will have a safe, HEALTHY, and fun filled 4th of July ! As always, enjoy the pictures and we'll be posting again in a few weeks.
P.S. The Binion is graded MS64 and the GSA is graded MS61.
Charlie aka slybluenote