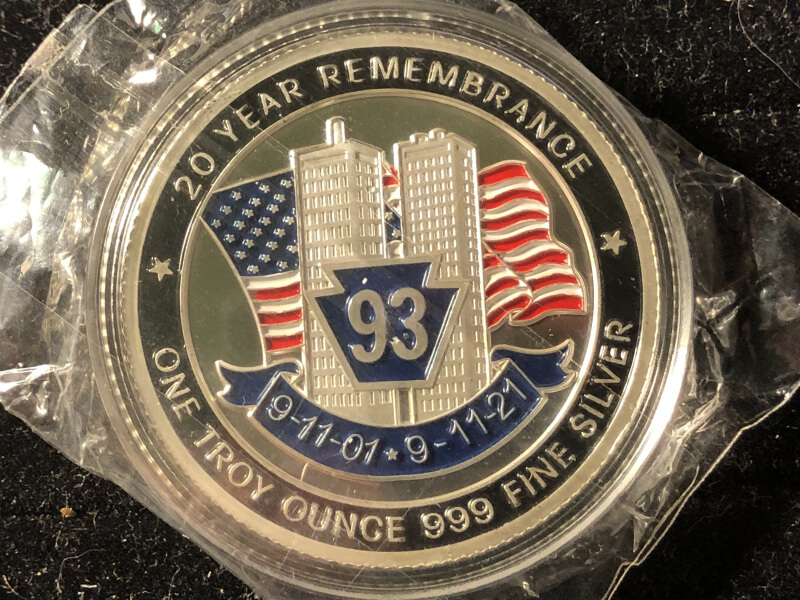 Good Morning folks!
     As we start today, let us remember the reason for the season. I would like to dedicate this post to my buddy and co-worker Jim "Jimmy" Layman who passed this last July. Jimmy served at the end of WWII as a weatherman in the Navy. After his service he ran his own business for quite a few years until he retired. Not being able to be "sedate" he came to work with me as a driver on the railroad until a few years ago. He left this world like he wanted to; on his own terms and in his sleep. His ashes were spread in the small pond beside his house on the 40+ acres he owned.
     The commemorative coin in the picture below was bought while I was on vacation visiting my family in Virginia recently. I don't know much about it except that it's a 9-11 twenty year anniversary coin and is .999 silver. It's about the size of a half dollar. It was one of those purchases that when I saw it, I liked it so I bought it….LOL! Anyway, it will take it's place in my collection along with the rest of my commemoratives. I will remember it fondly like I do Jimmy !
     This post will be brief due to the fact that it's a holiday, and I have more than enough maintenance to be done on my collection and to prepare for my nickel collection. I have ordered the necessary books and a  few boxes of slabs, which are on their way as we speak. I've also ordered a set to start my new collection off with. I'll be posting after these items have arrived! As always, stay safe, HEALTHY, and coronavirus free. One last thought, if you love your freedom, thank a vet and RIP Jimmy Layman!