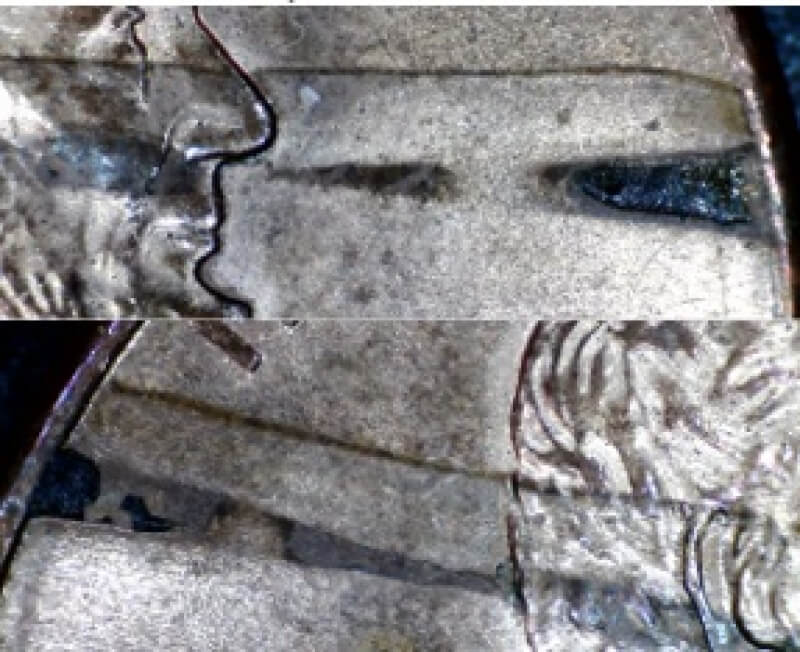 Debris Errors
Debris errors are those which damage a die by distorting the intended design. When debris enters the minting chamber, the debris may be embedded into the coin, or a groove may be created on the surface
 Although not common in circulation, most collectors overlook these errors. It can be difficult to determine if a groove was created by damage during the minting process or the coin was damaged after the strike. Under a microscope, small lines may appear in a groove which confirms the coin was damaged in the minting process and not artificial.
 Coins with materials embedded into the surface of the coin are easier to detect. The pressure required to mint a coin is enough to crush debris into the surface of a coin. Coins of value have pieces of feeder finger embedded into the coin and objects that can be identified, such as a paper clip. Some of these coins have been sold for thousands of dollars.
The first photo shows debris embedded into the surface of the coin in no arrangement. What the material is, is not identifiable. 

The second photo shows material embedded into the surface of the coin across the entire coin. Whatever fell into the minting chamber was the length of the coin. One candidate is a shattered feeder finger, but it has not been confirmed.
The third photo shows a jagged line grooved on the surface of the coin. The damage could be overlooked as artificial damage, but it results from debris falling into the minting chamber.