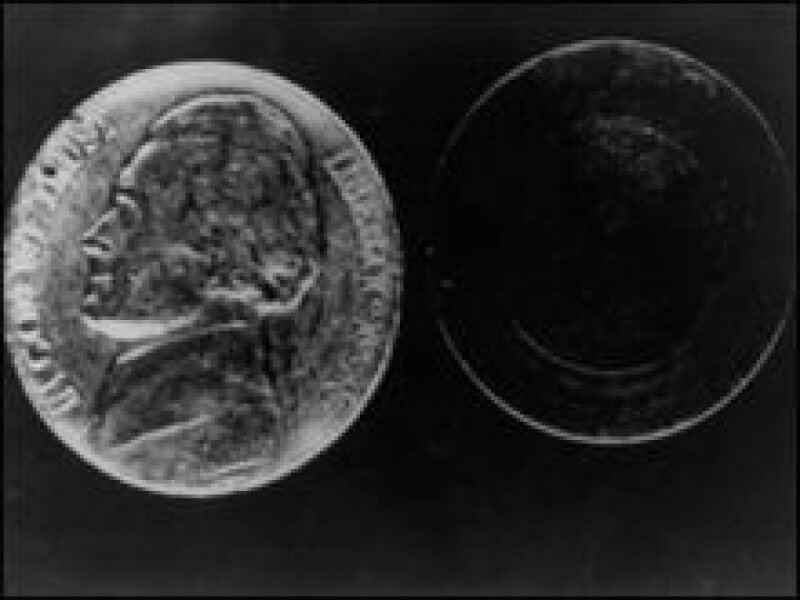 Jimmy Bozart was a young man who decided to make some money by working for the Brooklyn Eagle newspaper as a delivery boy.  One day, as he was making his way around his route, he accidentally dropped the last payment he received, which was a nickel.  Much to his surprise, the coin actually split down the middle of the edge.  One side had a normal 1948 obverse, but the reverse had a large S mint mark proudly sitting above Monticello.  Any of you would surely be able to tell that that simply could not be.  upon closer examination, Jimmy could see that still inside one half of this coin sat some microfilm.  Jimmy took it to the police, who turned the case over to the FBI.  They finally cracked the code on the microfilm, which incriminated the Soviet spy it originated from, Rudolf Abel.  He would later explain that he accidentally spent the coin, and couldn't track it down.  Later, Jimmy would ask  to buy the nickel back, but was refused, seeing as how it was now evidence.
Remember: If you see a hollowed-out nickel filled with a microfilm cryptographic message, say something. Just don't count on getting it back.
Then there was the man who made a business out of gold plating a V-nickel to make it appear as a $5 coin.
As it so happened, the nickel was close in size to the $5 gold piece, which had a similar design. So, as the story goes, a man named Josh Tatum began gold-plating the nickels and passing them off as $5 gold coins, for instance buying a 5-cent cigar then placing the coin on the counter and getting $4.95 in change.  The date 1883 was the first year of the Liberty nickel and since the population was new to this coin, it was easy to get away with the scam. Surprisingly, the perpetrators were found innocent since they used a deaf mute who would buy the 5 cent cigar.  Since the perpetrator couldn't speak he never said it was a $5 gold piece and therefore was innocent of fraud. (19th century logic, those were the days, am I right?). Later that year the word "Cents'' was added under the "V" to form the V-nickel we all know and love.  
Hope you enjoyed, and, as always, please tell me any stories I missed in the comments.  
-TheNumisMaster