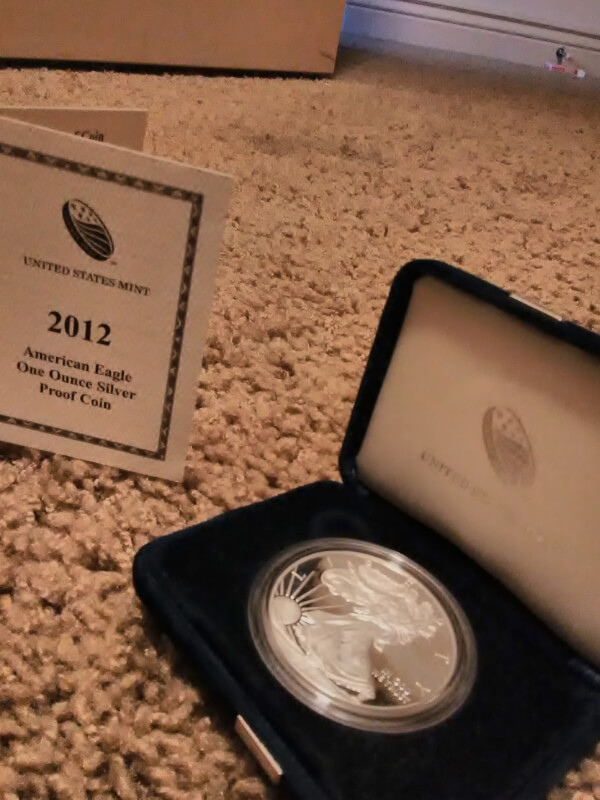 Hi all!  I hope you are all doing well!  I'm sorry about my inactivity recently.  I have been busy with the "end of term grinds" and family vacation.  I am getting back into the groove of things now, and whether you like it or not, you'll be hearing more from me ;).  
I've decided to follow in Mike's footsteps and write a bit about most of the individual coins that I own.  I chose to write about my 2012 Proof ASE first for the sole reason that the photo was already uploaded haha.  These coins have always had a special place in my heart.  I inherited 15 of them from my late grandfather, and have collected them ever since.  It began with my fascination with silver prices and and and interest in investment.  Soon my love of coins outweighed bullion, and my love for the ASE grew past silver and more to the beautiful design.  It is my opinion that the ASE is the most beautiful and visually satisfying coin the US Mint has ever released with the exception of the eagle design of Saint-Gaudens.  I saw this piece in my friend's collection and instantly knew that I had to have it.  He is notoriously a tough negotiator, but within the hour, the coin was mine.  I gave up a few of my smaller coins in my collection with the mindset of "quality over quantity" and BOY is this an example of true quality...  It is also my opinion that there are two factors that outweigh the value of a coin when it comes to trading.   First is the history behind it.  I would much rather have a coin with an amazing story than possess a coin with a high retail value.  If coins had no story then this hobby wouldn't be unique.  Second is the journey you travel in order to get the coin.  It is one thing to buy a coin online, and a whole other thing to negotiate for it.  Negotiating is half of the fun!  The ASE has every one of these things.  It will always hold a footprint on America's legacy of coinage.  As William Wooden said, "Coins are the footprint of nations" and I would not mind a bit if this coin was the main footprint of America.
Before I tie this blog up, I wanted to share a bit about these coins that you may or may not know about these beautiful works of art.  The first American Silver Eagle coins from the United States Mint were issued with 1986 date marks on the obverse side of the coin. The Silver Eagle consists only of a 1 Troy oz silver coin with .999 purity and a face value of $1 backed by the federal government. The US Mint uses images of Lady Liberty and the American bald eagle on the obverse and reverse sides of the coin, respectively. The designs never change and the only variation in the coins is the use of a mint mark on the reverse side of the proof coins.
I certainly hope you enjoyed!  Please enlarge the picture and have a great rest of your day!
Cheers, NM