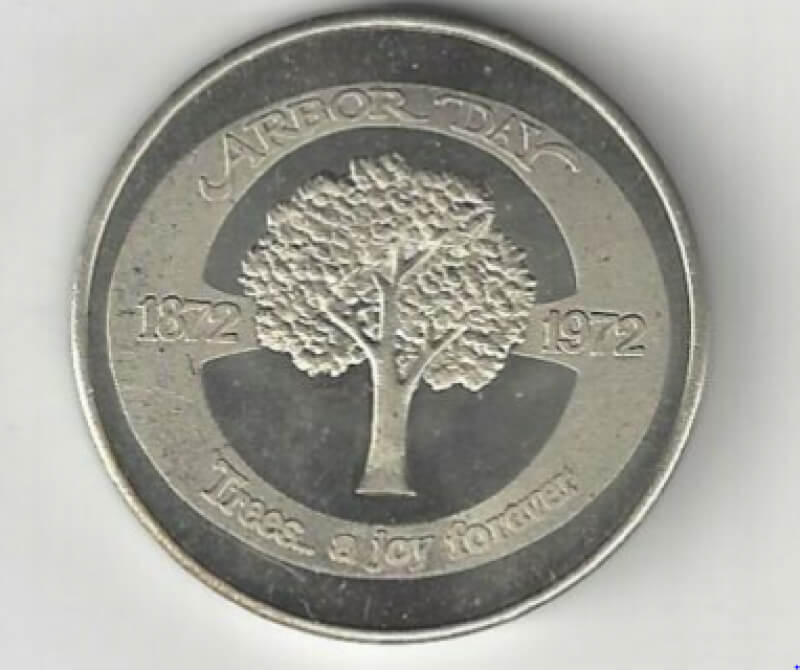 Coin Thoughts #120 by "SUN"
ARBOR DAY  - 150TH ANNIVERSARY
April 29, 2022 will mark the 150th anniversary of Arbor Day.  Arbor Day translate to "tree" day.
J. (Julius) Sterling Morton, editor of Nebraska's first newspaper, "Nebraska City News," promoted the tree planting day.  As editor of the paper, he had a platform to spread the knowledge of trees.  J. Sterling Morton worked with the Nebraska Board of Agriculture, and the first Arbor Day was April 10, 1872. For many years, Arbor Day, was set on April 22nd, Morton's birthday. Morton lead the way of planting almost a million trees in his life time. Arbor Day is a state holiday in Nebraska.
The 65mm bronze (shown) centennial medal features "Arbor Lodge" on the obverse.  The reverse has a tree with "Arbor Day" "1872  1972" and "Trees,, A Joy Forever."
Morton built Arbor Lodge, a 33 room mansion, to resemble the "White House."  His son ,Jon, expanded it to 52 rooms.  Jon was the founder of the Morton Salt Company, its motto "When It Rains, It Pours."
The 35mm medal obverse shows Arbor Lodge and the wording "Home of J. Sterling Morton Historical State Park," "Nebraska City, Nebraska." and "Arbor Lodge." The reverse is similar to the larger medal. The 35mm medal comes in nickel-silver (shown), goldine, antique bronze, and silver.  My  4-medal set came in an envelope with an invitation that reads "The Arbor Day Centennial Ball Committee request the pleasure of your company at a Centennial Coronation Lawn Party, and Ball to be held in the Rose Garden of Arbor Lodge State Park at Seven thirty o'clock April 22, 1972. tickets $1.00"
I have fond memories of Nebraska City.  When I lived in Nebraska, I would take the family on a day trip to Arbor Lodge to enjoy the fall colors and visit apple orchards in the area.  I attended my first coin show, 1970, in the town.