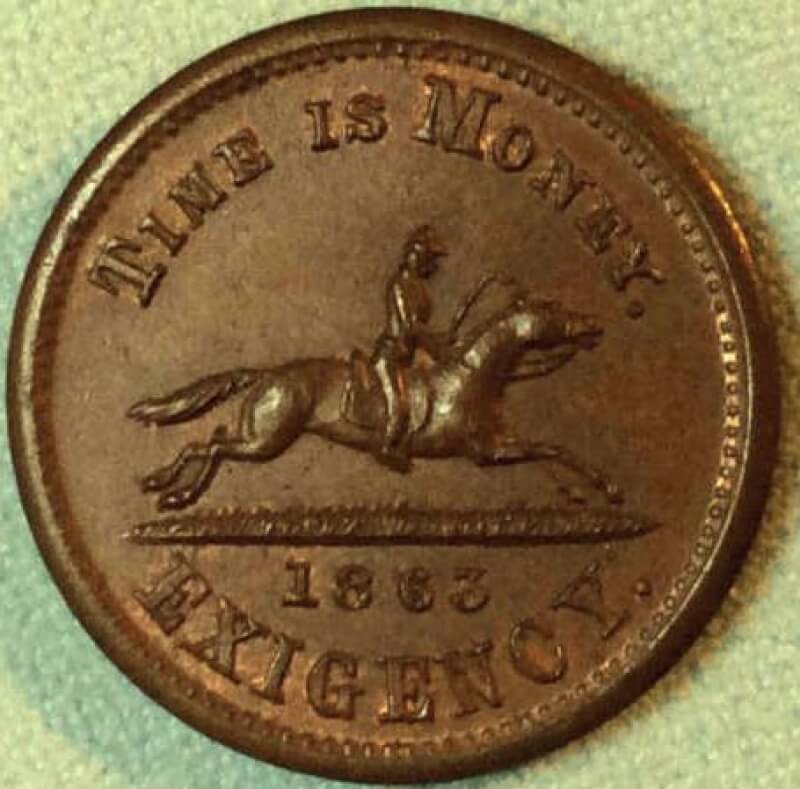 Coin Thoughts # 44 by "SUN"
A NOVICE CIVIL WAR TOKEN COLLECTOR
I consider myself a novice when it comes to collecting Civil War Tokens, even though I received my first civil war token in the early 1960's when i was around the age of 12-13 years old. My sister obtained a civil war token in change while working as a carhop at the local A& W Root Beer Drive-in. It was interesting to me to have an "Indian Head penny" that said "NOT ONE CENT." I do not remember when I finally realized what I had. When I was building a numismatic library years later, I purchased George and Melvin Fuld's books "Patriotic Civil War Tokens" and " U. S. Civil War Store Cards," probably around 1980. While looking though the books, I realized it was an 87/456 patriotic civil war token in Very Fine condition.
By the 1980's, I acquired more civil war tokens. At this time, I had a co-worker that had the last name of Hussey. I thought I would impress him with a token with his name on it. I purchased a NY-630-AK-1a, Hussey's Special Message Post. To say the least, he was not impressed..
In 2008, I won a couple of civil war tokens on ebay. I was now up to 8 civil war tokens in my collection. I thought to myself these were interesting tokens and I needed to know more about them, so I became a member of the Civil War Token Society.
I live in an area of the country where there in no coin club close by, so most my civil war tokens are acquired by winning bids on ebay. Now, in my late 60's. I have almost 40 civil war tokens.
One thing I learned by watching ebay, there are a lot of people that are proud of their civil war tokens listings by putting outrageous prices on them. Even though I do not win very many tokens on ebay, I enjoy getting the Fuld's books out and Q. David Bowers book, " A Guide Book of Civil War Tokens" and determining what the civil war tokens are. I run across some that are mis-attributed. Bottom line, the more I study the tokens, the more knowledgeable on the subject of Civil War Tokens i become.
Photos are of the obverse and reverse of the Hussey token and couple of my favorite designs.