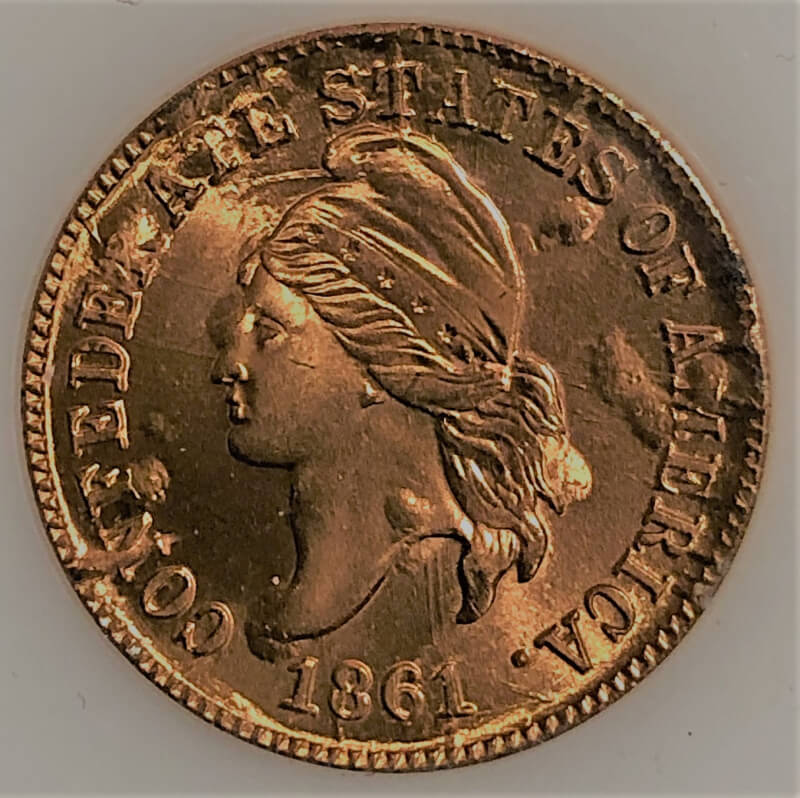 Buying The Coin Before the Book
| Mokie
Always buy the book before the coin is an oft repeated truism that I have said myself on many occasions.  But when you are an impulsive person, like me, sometimes that just doesn't happen (especially when I didn't even know the book existed until I bought the coin).  Along with being impulsive, I am an absolute sucker for a coin or coins in a capital holder.  I have many of those beautiful slabs in my collection and I will no doubt add more in the future.  So how did I acquire the item pictured on this blog?
Like many of us, I like to spend some time each day on Ebay, just looking for random coins, or Batman stuff, or Military Helmet stuff, to add to my collections.  One day recently, I was searching for new items in one of my saved coin sellers and happened to run across this Confederate Cent.  The Capital holder in which the coin was displayed looked old, especially with the metal screws, and the Cent itself looked quite lovely.  Of course like Jerry McGuire's Renee, you had me at Capital holder, so I made an offer and my beautifully encased Cent arrived.
Now, speaking of the case, I believe from research, it is contemporary to the issuing period of the Bashlow Confederate Cent copies so the statement that the Cent was "struck from the original Lovett dies" was not actually true.  Mr. Bashlow had purchased the dies but had copies of the dies made because he knew any attempt at minting more coins from those purchased dies would have resulted in their complete destruction.  But, I guess stating "Struck from Copies of the Original Lovett Dies" isn't quite as intriguing. 
In any event, I have barely cracked the cover of my book, which arrived two days ago, but all the information I provided in the preceding paragraph was gleaned directly from it.   I am going to have a wonderful time learning all about the complete history of the Confederate Cent and that is even better than a Capital Holder.
Biography:
Levi, Harold and Corell George, The Lovett Cent a Confederate Story, 2nd Editon