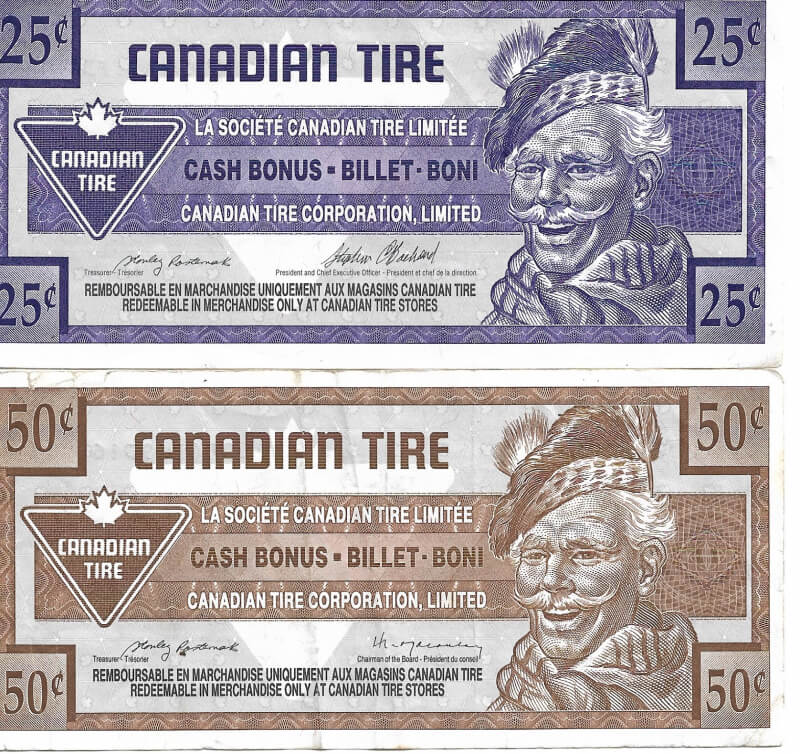 Rolling Along on Canadian Tires
| Mokie
When most of us think of a McDonald's character, we think of Ronald McDonald, or the Hamburgler, etc.  But in Canada, you might think of Sandy McDonald, the personification of Canadian Tire.  Canadian Tire is a chain of stores in Canada that are roughly similar to Walmart and Target (with gasoline). 
Canadian Tire also issues scrip depicting Sandy McDonald in denominations of 5¢, 10¢, 25¢, 50¢, $1. And $2.  You receive your scrip when you make purchases at Canadian Tire and you can only spend your scrip there.  One nice feature, even if you make your entire purchase with scrip, you are still issued more scrip based on the total sales value. 
The issuing of Canadian Tire scrip began in 1958.  At that time, you were given 5% of your purchase in scrip, nowadays it is only 4/10%.  The scrip itself has a currency-like feel and appears to have an embedded security strip.  I understand that a German citizen printed 11 million worth of counterfeit scrip but was caught before he could travel to Canada.  Fun Fact, the only commemorative issued were a 10¢ note issued to commemorate the 150th anniversary of the Confederation and a 10 cent note for the 1976 Montreal Olympics.  I just ordered them both.  (: 
PS - Scrip is no longer issued as scrip is now added to a loyalty card for convenience.  Sad!!!!