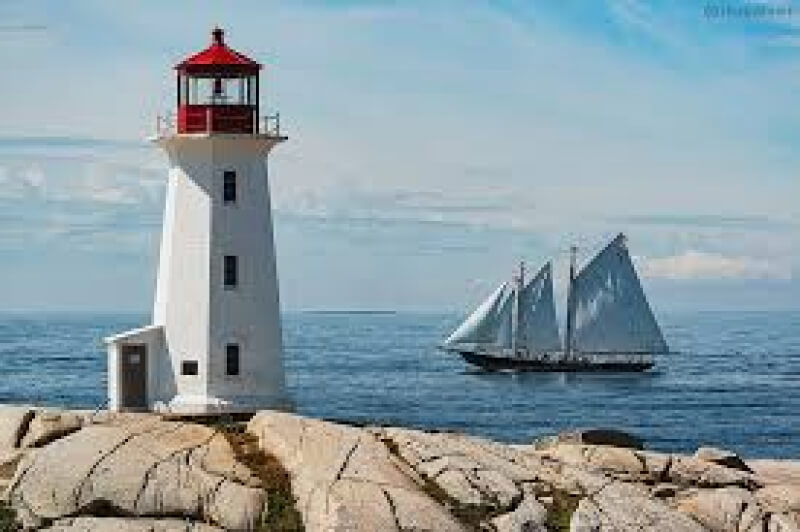 The Pride of Nova Scotia
| Mokie
When we think of Canada, we think of Beavers, the McKenzie Brothers, Moose, Maple Leaves, and maybe Poutine.  But you probably do not think of Bluenose.  Bluenose is a fishing/racing schooner built in Lunenburg Nova Scotia and launched in 1921.  She has been featured continuously on the reverse of the Canadian dime since 1937 (except for 1967). 
So, what is Bluenose's story?   She is a fishing vessel, meant to ply the fertile waters of the Grand Banks.  She was also a racing schooner that wreaked havoc on her competition in the 1920's, sadly by the 1930's her style of boat was no longer commercially viable but her racing prowess was undiminished and she won her final challenge against the U.S. schooner Gertrude L, off the coast of Massachusetts, in 1937.  Sadly, she was sold to a West Indies company in the 1940's and sank after hitting a reef in 1946. 
Bluenose II, a reproduction of the original schooner was built in 1963, she is homeported in Lunenburg, N.S., and plies the Atlantic Coast as a wonderful symbol of Nova Scotian pride.  The Royal Canadian Mint thought it fitting and proper to honor her on her 100th birthday with a beautiful commemorative.  The reverse shows marine architect William Roue designing Bluenose while the finished ship appears through his imagination.  The obverse features the famous portrait of George V, symbolic Head of State when Bluenose was launched. 
The Stats:
Designer Reverse-   Yves Berube    Designer Obverse – Sir. E.B. MacKennal
Fineness - 99.99% Silver
Diameter – 36.07MM    Weight – 23.17 Grams
The Biography:
Welcome to Bluenose II, https://bluenose.novascotia.ca/