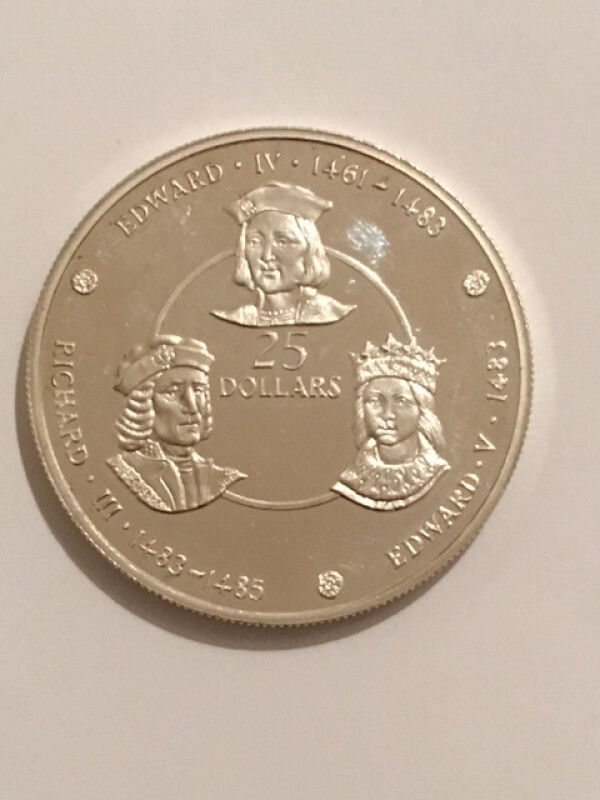 Cayman Island King Coins
House of York
The Cayman Islands minted a collection of coins in the 1980s and 1990s for the different kings and queens of the United Kingdom.  There was a series for the Queens of England in both silver and gold, and another coin with 5 different monarchs on it.
One series that particularly interested me was the different dynasties of England.  The first had the Saxon kings, who ruled before the Norman conquest of 1066. The Norman kings were next, with four kings on the reverse, including William the Conqueror.  The different houses and royal lines were also represented, including the Landcasters, Yorks, Tudors and Hanover. A total of 10 different designs were issued. They were struck in .500 fine silver.
My coin commemorates the House of York, which rose to power during the War of the Roses in the mid-1400s.  Edward IV was the first king of the dynasty, the son of Richard, Duke of York, who began the rebellion with the ruling Lancasters.  When his father was killed in battle, Edward came to lead the coalition of rebelling nobles that came to power. Edward V was the short ruling king who died in the infamous Tower of London.  The Crown passed to Richard III, who probably was involved in Edward V's death. (If so, it was typical of the time, when many of the kings came to power by seizing control.)
These three kings are represented with busts on the reverse of the coin, which also records their name and years of reign.  The denomination of 25 dollars is in the middle of the circle formed by the three kings. With a face value of 25 Cayman Island Dollars (KYD), the exchange rate is 30 USD, with the coin valued at approximately $35-40.
At around the same time, the Cayman Islands also issued a similar series made of gold.  The coins had the same design as their silver counterparts, but had a denomination of $50 KYD.  It had .500 purity gold, with a total melt value just over $300 USD.
The Cayman Islands make many other interesting coins.  Their coins range from animals to monarchs to sports. One other one that interested me was $1, 1 oz. silver coin with a marlin from 2017.  The marlin and a Royal seal above it are gold plated. The marlin bends back against itself as it swims on the coin, giving a distinct sense of motion.  Unfortunately, it is much harder to find than the Houses of England coins, with a mintage of only 500, compared to 12,000. However, it is another example of the interesting coins that come from the Cayman Islands.
Source:
Silver House of York - https://en.numista.com/catalogue/pieces33341.html 
Gold House of York - https://en.numista.com/catalogue/pieces101267.html