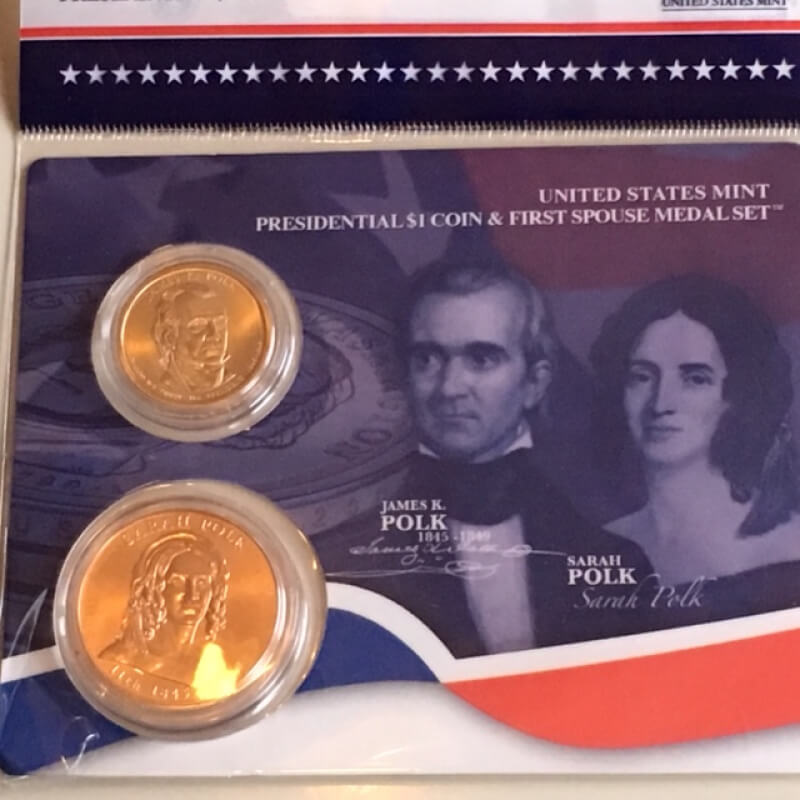 Polk Presidential Dollar and First Spouse Set
James Polk was President of the United States from 1845 to 1849, as the 11th President.  Although born in South Carolina, his legal career was based in Tennessee, where he was in the State Legislature, House of Representatives and Governor.  While President, the United States greatly increased in size, adding 800,000 square miles. Texas became a state, the border with Canada was set, and the US defeated Mexico in the Mexican- American War.  He retired after one term as president and died that year.
Polk's Presidential Dollar was issued in the third year of the series, 2009, along with William Henry Harrison, John Tyler and Zachary Taylor.  The Mint also issued a parallel First Spouse Medal series, and issued a combined Dollar- Medal set. Sarah Polk's bronze medal is substantially larger than her husband's dollar coin, with a diameter of 1.313 inches against 1.043 inches.  The obverse of both shows the name above their respective busts, the presidency number and years in office. Only President Polk's coin has "In God We Trust." The reverse, however, are very different. The Polk dollar - like the other Presidential coins - has the Statue of Liberty, with the denomination to its left and "United States of America" around the outside.  The medal shows two figures studying a document.
Interestingly, when the set is put together the reverses do not align.  The Sarah Polk medal obverse- reverse design rotates side to side (medal alignment), while the dollar rotates top to bottom (coin alignment).  Thus the dollar reverse ends up upside down.
Similar to the bronze medals, the Mint also struck First Spouse gold coins.  They were struck in .9999 (4 9s) purity gold and weighing 15.5 grams. The first ones - Washington and Adams - saw 17,000 minted.  But from there it was downhill; Sarah Polk's coin had a mintage under 3,500. By the end of the series, the mintage was under 2,000 in some cases.  Although there was less interest in these coins, perhaps someday they will be worth more for their rarity. (I, for one, have yet to come across one.)
The gold coins bear the same design as the medal, with a few tweaks.  The obverse of the gold coin only adds "In God We Trust" - which all coins bear, but not medals - Liberty, W mint mark and date.  The medal doesn't have a date, but this coin reads 2009. The medal reverse occupies the inside circle of the gold coin. The outside ring adds other standard coin markings - United States and motto and the denomination.  As the coin is considered bullion, it also shows the weight and purity at the bottom. This group of Presidential coins and medals tell an interesting story of our nation's leadership, from its founding to modern day.
Sources:
First Spouse Series - https://www.usmint.gov/learn/coin-and-medal-programs/medals/first-spouse-medals 
James Polk - http://www.jameskpolk.com/james-polk-biography.php
PCGS CoinFacts