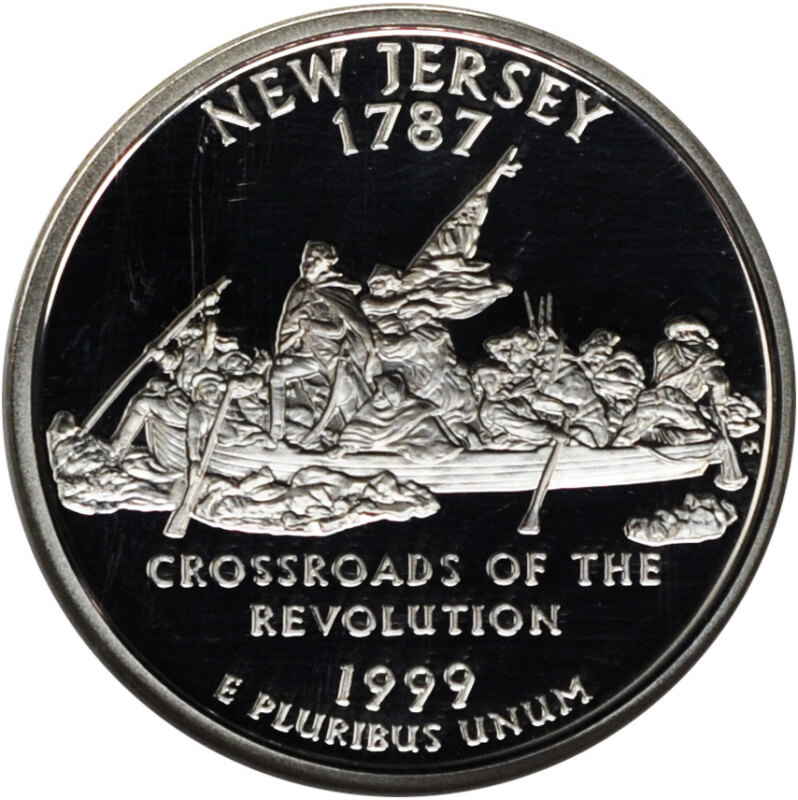 The Top 10 State Quarter Designs
The Top 10 of the State Quarters: Ten Years Later
The state quarter program, which brought the first change to the US Quarter in 70 years, ended 10 years ago.  This article looks to establish which of those quarters were the best, the worst and the most creative by ranking the top ten and bottom ten State Quarters.  With the National Park Quarter Program set to end in under 2 years, this is especially important as the Mint plans the next designs for the Washington Quarters.
New Jersey - With the iconic image of Washington crossing the Delaware River dominating the design, it has the look of a commemorative, making it Number 1.  In the history of New Jersey, this is the most iconic single moment, as the Continental Army marches on Trenton on Christmas Eve.
Pennsylvania - The figure in the center of the coin is reminiscent of walking liberty quarter of the early 20th century.  The background has an outline of the state. (This coin doesn't wear as fast).
Arkansas - It contains the symbols of the state - diamonds, trees, rice stalks and duck - without feeling cluttered, like some other quarters do.
Nevada - The mustangs are a look back at the history of the state in the late 19th century.  Unlike most of the other coins, they convey motion, making it alive and exciting.
Massachusetts - The Minuteman is reminiscent of the Lexington-Concord Commemorative from 1925.  This coin similarly celebrates the proud history of the state and the Revolution.
Wisconsin - For a state most famous for its cheese and dairy products, the design including a dairy cow and cheese wheel is fitting.  The ear of corn is representative of the agriculture of not only the state, but the whole region, although none of its neighbors depict it.
Utah - The completion of the Intercontinental railroad in 1869 was a major milestone in the nation's history.  In the center of the coin is the "Golden Spike" which was ceremonially hammered in to complete the railroad.
Illinois - The "Land of Lincoln" backs up its claim on this coin by depicting Lincoln in the outline of the state.  The skyline is of Chicago, the 3rd biggest city in the country.
American Samoa - The territory's quarters, issued in 2009 are some of the most interesting, because their history and culture are less well known.  This coin shows off American Samoa's people and culture with a traditional ava bowl, whisk and staff.
Minnesota - The coin of the "Land of Ten Thousand Lakes" proudly shows a lake and all the benefits it brings - boating, fishing and wildlife.
Almost there: Texas, North Carolina, Oregon
Most Creative: Tennessee - Uses musical instruments to represent the history and heritage of the state.
Most Unusual: New Hampshire - The Old Man of the Mountain is not the norm of the designs in the series.
Quarters with an Outline of the State: 15 of 50
Quarters with People: 16 of 50
Quarters with Animals: 19 of 50
Next: The Worst State Quarters
Image from http://coinappraiser.com/coins/value-of-1999-new-jersey-state-quarter/