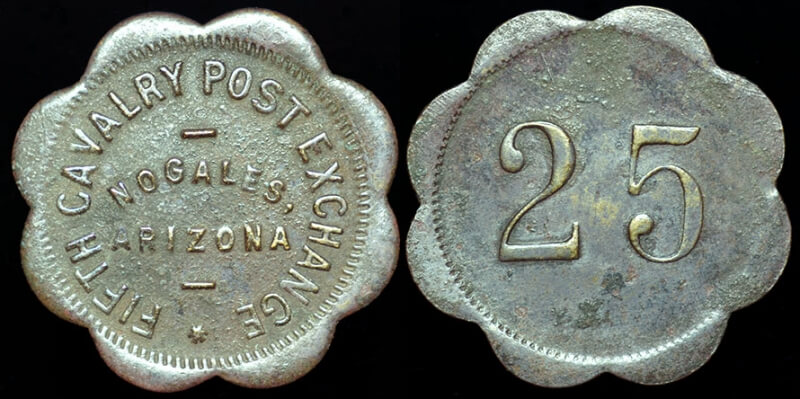 Border Wars - So-Called Dollar & Arizona Tokens
#1 It's not in great shape and they come in several varieties, I have two different large dollar sized ones. I have one that's considerably smaller but with the same US Army soldier taking aim, the reverse of that one has the "Lord's Prayer." These were intended to be given to soldiers as a 'pocket piece' by family as a reminder from home and a comfort during battle. These relate to the response by the USA to the border incursion by Pancho Villa on the community of Columbus, New Mexico. Please add a comment if you'd like to see more from the USA / Mexico Border Wars of 1916 - 1917.
#2 USA token "Good For 25 Cents" for the 5th Cavalry located across the southern border during Mexican incursions into the US by Pancho Villa. The border war, lead by General Pershing lasted about a year, 1916 - 1917. These and the other issued denominations (25c, 12 1/2c, 10c, all brass & scalloped (8) are very scarce with less than 35 known (all 27 mm).
This is a rare Good For "25" Token from the "Fifth Cavalry Post Exchange" when they were stationed at Nogales, Arizona. These were used back when they were still riding horses instead of tanks. A new post was established in Nogales in 1910, when the Mexican Revolution threatened to spill across the border.
In 1916, after Pancho Villa had invaded the United States and attacked Columbus, New Mexico, this region became a staging area for the Woodrow Wilson ordered "Punitive Expedition" led by General John J. Pershing. He crossed into Mexico in pursuit of Villa, taking the "Fifth Cavalry" and other units with him. Until the beginning of United States involvement in World War I, the military presence was swelled by National Guard units mobilized from western states to protect the border. From 1918 until 1933, the border was guarded by African-American cavalry and infantry regiments known as "Buffalo Soldiers".
Nogales, Arizona, is located on the United States - Mexico border right across from Nogales, Sonora, Mexico. It is the largest border town in Arizona. The name Nogales means "Black Walnuts" in Spanish, and the Walnut Trees which once grew abundantly in the mountain pass can still be found around the town.
"Arizona Trade Tokens 2010" by Peter Spooner #NOG-270d. Also listed in Birt.
Listed as Rarity 6 (21-35 pieces known).
Listed on the TokenCatalog Database.
#3 - Similar to #1 but only 12mm, It's the one described above with the Lord's Prayer (barely discernible) and not other legend. It looks like a detector find, probably from one of the the many ghost towns in SE Arizona.
#4 - Is a So-Called Dollar size pocket piece, like #1, different legend. All from back in the days when we defended or borders.
#5 - Ft. Bowie, 4th Cavalry Troop "C" also with 'C' counterstamp. Soldiers need something to do during time off and billiards was a favorite activity and promoted by the Brunswick Balke Collender company, before they became primarily involved in pool equipment. Many military tokens of this era (1884 - 1890) were also supplied as advertising pieces and checks for equipment borrowing in the recreation rooms. Ft. Bowie became famous for its protection of local farmers and ranchers from Chiricahua Apache raids and kidnappings. The pass that the fort protected is along the the Butterfield stagecoach route between El Paso Texas and Tucson Arizona. It's located just south of Interstate 10 near Willcox in southeastern Arizona. It established there following an Apache raid on soldiers passing through the area.