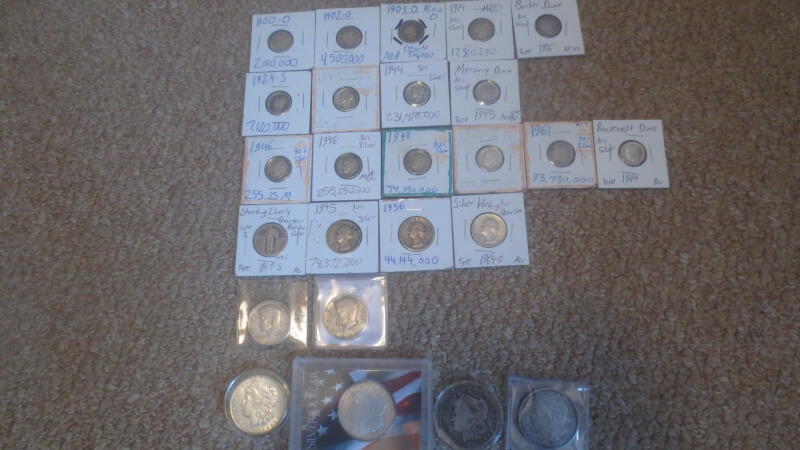 This is going to be my last collection that is part of my "My Coin Collection So Far" Collection, except for something new that I made for my collection. I am making this blog to show all the silver in my collection. Currently, it comes to 6.0 troy ounces.

Silver Roosevelt Dimes: My first Roosevelt was an AU-50 1961, this somehow made its way into my collection (see more in my blog about how my collection started). A few months later, I got an VF-30 to XF-40 1946, this is the one with the darker tarnishing on it. The next was a worn VF 1948, this was my first silver dime I found in a bank roll. Next came an XF-45 to AU-55 1950-S, I really love this one, because it has an 'S' mintmark and is a better date. Later I bought my error: an XF to AU 1964-D Clipped Planchet, I won this for $5.69. In June of 2014, I metal detected an XF 1946 (the one with the lesser toning), last of all was a BU 1964, this one was my second and last 90% silver coin found in a bank roll. I would guess that this was accidentally put in a bank roll from someone's collection, because it is in absoulutely Brilliant Uncirculated condition, except for some light blemishes on Roosevelt's face. To a Metal Detectorist, silver Roosevelt Dimes are called "Rosie's."

Mercury Dimes: In November 2013, I was given an AU or Weak Strike BU 1945 Mercury Dime. Everywhere seems to be BU on this coin, but the bands are worn on the reverse. This one I estimated @ $6.00. Next month, I got a F-12 1944 Mercury Dime. In January of 2014, I got an XF 1942, and then in June, I got a F-VF 1924-S Mercury Dime. This one is very tarnished, but I love it, because it is old and has a mintmark, and has under 10,000,000 minted. What I find that is funny, is that I have metal detected a last year Barber and a first year 'Rosie', but none of the 'Mercs' In between!

Barber Dimes: In September 2013, I got an AG-3+ 1902-O Mercury Dime. I was so excited over my $2 coin, especially since it had the 'O' Mintmark; this was my first coin from a non-existent mint. In December 2013, I metal detected an XF+ 1916 Barber Dime (see more about metal detecting finds in my blog!), this one is worth about $35-$50. In September of 2014, I found a F-12 to F-15 1914 Barber Dime, this one is worth $3-4. In October 2014, I bought a lot of 9 better date barber dimes (1895-S x 2, 1900-O x 4, and 1905-o micro O x 3). I made $8 profit, and I kept a FR-2 to AG-3 1900-O and a G-4 Damaged 1905-o Barber Dimes.

Silver Quarters and Halves: In 2013, I got 1956 VF and 1945 VF Washingtons, I got them about 4 months apart from each other. In 2015, I got an AU-50 to AU-55 1964-D Washington, I really love this one because of the reverse mintmark; and then I got an AG 'S' Mintmark SLQ. Most people would call it dateless, but I was not satisfied with 'dateless', so, with heavy magnification, I saw part of a '7', so I identified it as a 1917-S Type 2.
In 2013, I got an AU-Unc. 1964-D Kennedy Half Dollar, this was a date I longed to have, because it was a one-year issue (90%) and had the reverse mintmark. I was so excited when I saw it, that I didn't check for a mintmark, and when I did, I was even more excited! Just recently I got a VF-XF 1967 40% Kennedy Half Dollar

Silver Dollars: Last January, for my birthday, I got a circa AU-58 1885-O Morgan Dollar, on January 12th, a friend of mine gave me an AG 1896-O Morgan Dollar. That very same day, a box arrived in the mail, which contained clothes and things for me and my six siblings. In a tape box, there was an AU-50 1902 Morgan Dollar. Only a couple of days later, I was given a cleaned VF-30 1884-O Morgan Dollar.

In three days I got three morgan dollars and my silver weight increased by 67%! From 3.6 Ounces to 6.0!!!

I am not going to discuss war nickels, because there are only 11 dates for 4 years.

Happy Silver Stacking Everyone!!!