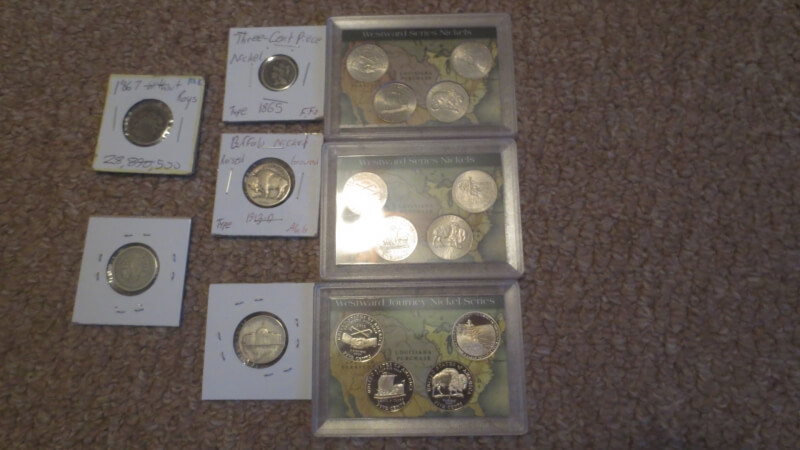 As I often keep some of the lowest grade coins from lots, because they will not sell, like dateless Liberty V Nickels, I own many low grade coins. But, I own some better grade coins as well.

Last February I won a lot on eBay for $18.50; it included a F 1865 Nickel Three-Cent, an AG 1867 No Rays Shield Nickel, an XF 1883 No Cents Liberty Nickel, a VG 1912-D Liberty Nickel, a F 1937 Buffalo Nickel, and a F 1943-S War Nickel.

These coins started Discontinued Denominations (which has not grown by a single coin since), Shield Nickels, and Liberty Nickels.

I then roll hunted a lot, which boosted late buffalo nickels and Jefferson Nickels, including 1938, 1939-S, 1943-S, 1945-D, 1949-S, 1951-S, 1955, and 1958 Nickels, and every single San Francisco date except for 1938-S and the War Nickel dates; all of which are better dates. I also bought BU 1941 and 1946 nickels, VF 1944-D and 1945-S War Nickels, and a few others.
I bought a 1938-1961 Jefferson Nickel Folder, and now the only missing dates are 1938-DS, 1939-D, 1942-PS (Silver), 1944-S, 1945-P, 1950 and the key 1950-D. I also have the 1962-1995 and the 1996- Jefferson nickel folders, those of which I don't collect so enthusiastically.

I also have the Liberty Head and Buffalo Nickels. Most of my older buffalo nickels are acid treated, unfortunately. I bought my 1913-D Type 1 (see my last blog for better details), 1914-D (acid), and 1938-D (possibly D/S). I acid treated others from rolls and got 1913 Type 2, 1914, 1918 in VF(no acid), 1918-D, 1919 PDS, 1921, 1928-D, and more common dates.
The only buffalo nickels dates that I don't have in acid are 1913-D Type 1, 1916, 1918, 1925-D, 1928-S, 1934-D, 1935, 1935-S, 1936-PDS, 1937-PDS, and 1938-D(/S?).

Liberty Nickels have only 33 dates (minus 1913), and only 3 are very rare, so you can get 30 dates without too much difficulty and money. I had won a lot of 180 Liberty nickels for $91.51, and in it I found an 1886 in G-4 to G-6 condition, which I sold for $100.00. I then, because of the great success, kept 25 of them, including a VG 1883 No Cents, 1889-1893, 1895-1904, 1907-1912 and 1912-D. Even then, I made $200 from $91.51!!! I then bought another lot of 100 1800's Liberty Nickels for $100, and I kept an AG 1883 With Cents, G 1887, AG 1888, G 1890 and G-6 1893 (the original 1890 and 1893 had been acid treated). I then bought an 1894 for $5.61 off of eBay, and G 1905 and 1906 V Nickels for $3.00. I am planning on buying an 1884 nickel, so I can have a complete set of semi-key to common date Liberty Head V Nickels!!!

I had only 1 Shield Nickel, that being an AG 1867 No Rays. I bought a lot of 19 Acid Treated shield nickels for $31.00, sold 11 off for $22.00, and kept the rest, including 3 1866's, one 1866 or 67 with rays, 1867 With Rays, 1867 Without Rays, 1868, and 1869.

My last nickel I have is a F-12 or F-15 Nickel Three-Cent piece!


About the pictures: The first picture shows my WWJ Nickel PDS sets, and other types of nickels in my collection; the top 2 x 3 case is Philadelphia, the middle is Denver, and the bottom is San Francisco. The second picture has my newest nickels, and my oldest nickels.