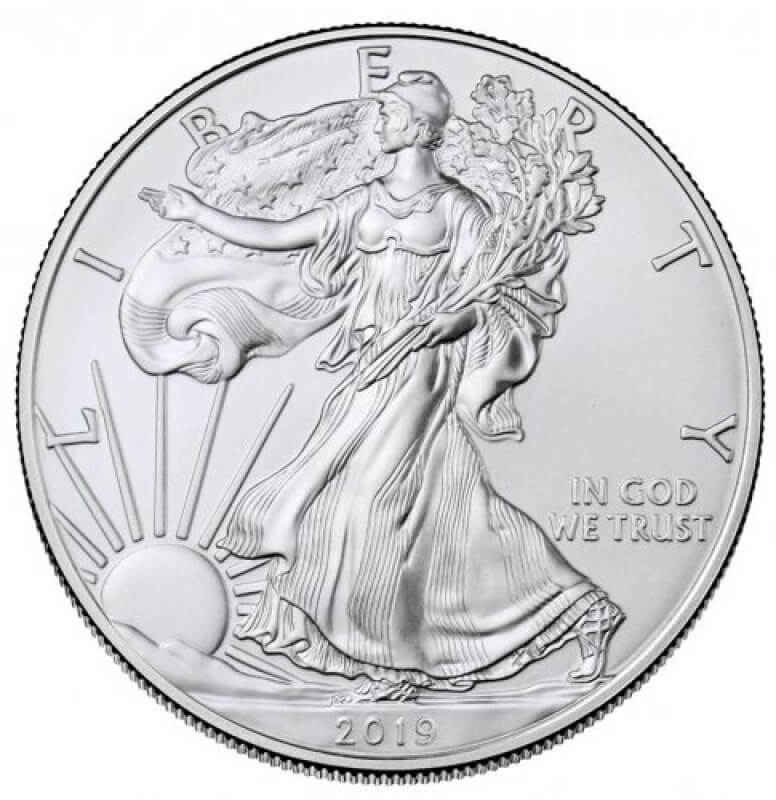 American Silver Eagles were first minted in 1986 as a result of the Liberty Coin Act introduced by Senator McClure. The Liberty Coin Act's goal was to shrink the national stockpile of silver by using it for collecting and investing of the public and everyday Americans. They are the official silver bullion coins of the United States, and they have a one dollar face value.
    The obverse of the coin depicts Lady Liberty stepping into a sunrise, with the sun on the left side. Designed by Adolph A. Weinman, this design was first used on the Walking Liberty half dollar and was chosen for its beauty, as Theodore Roosevelt wanted to bring the art back into American coinage. The design was an instant success. The reverse is a much newer design and shows an eagle behind a shield. (Hence the name American Silver Eagle) The eagle carries an olive branch and arrows in its talons. There is also a group of five pointed stars to represent the original thirteen colonies that stood up to the British in the American Revolutionary War of the late 1700s. The reverse design is credited to John M. Mercanti. 
    American Silver Eagles are composed of one troy ounce of .999 silver. You can purchase them in uncirculated or proof grades. Uncirculated Silver Eagles are made for investment and bear no mintmark but have a satin finish. Proof American Silver Eagles are minted for collectors and do have a mintmark (S for San Francisco from 1986 until 1992, P for Philadelphia from 1993 until 2000, and W for West Point from 2001 to the present). However, a Denver (D) mintmark was never used on them.
    To tell where a Brilliant Uncirculated American Silver Eagle was made you can learn about the history of the coin. If you have a Brilliant Uncirculated American Silver Eagle before 1993, it is from San Francisco, if it is from 1993 to 1998, it is from the mint in Philadelphia, If it is from 1999 or 2000 it could be from either one of the West Point and Philadelphia mints, and if it is 2001 or newer, it is from the mint branch in West Point, New York.
    There have been hundreds of millions of Silver Eagles made over the years, and that may sound like a large number, but the number of these made in thirty years is similar to how many United States pennies are made in a month. These stunningly beautiful bullion coins have done well continuously from 1986 to the present, their first three decades of production, and they should continue that success for many years to come in the future.