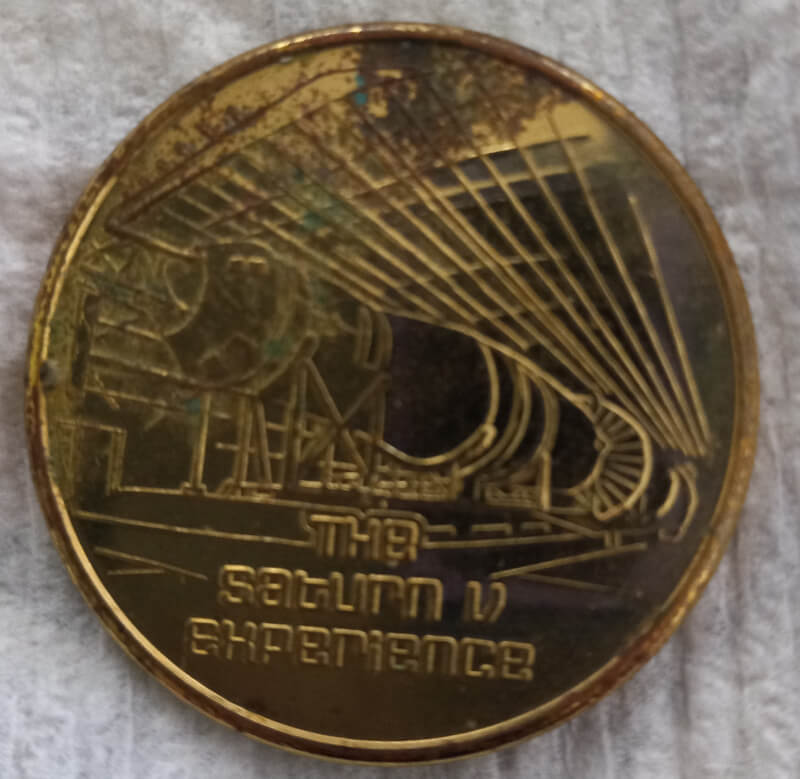 2019 Houston Space Center Token
This gorgeous Houston Space Center token is a "souvenir" from one of my trips to Texas in 2019.

A wonderful year, I got to visit the Saturn V Experience Exhibit. I recall seeing thru glass protected areas NASA engineers working on robotics and other experimental equipments. I had the opportunity to visit my beloved aunt, who passed away last month, twice this year. I went to see her in September and in December 2019. It was a highly joyful trip for me as I have much affection for my relatives in Texas. I am glad to have had the chance to be by my aunt's side for her birthday and in Christmas as well. 

This magnificent token was regularly acquired at the Space Center's store, yet its value and beautiful brass-like material will go high in my soul forever. The token cherishes the Saturn V  rocket manufacturing, reliability and missions launched from Cape Cañaveral. Florida. Many top secret projects and marvelous US scientific space explorations have been put up together and coordinated from Johnson Space Center and Mission Control, Houston.

**As for the token, there is not much information available or disclosed regarding quantities produced, nor material(s) used when manufacturing or minting it. Its approximate diameter is around 27-29 mm and about 6.3 grs of weight. Its border or circumference is reeded.  Thank you for your visits and comments in this and all my blogs.
In my own words.
AC Coin$
Freedom. "Never give up."
"In God we trust."