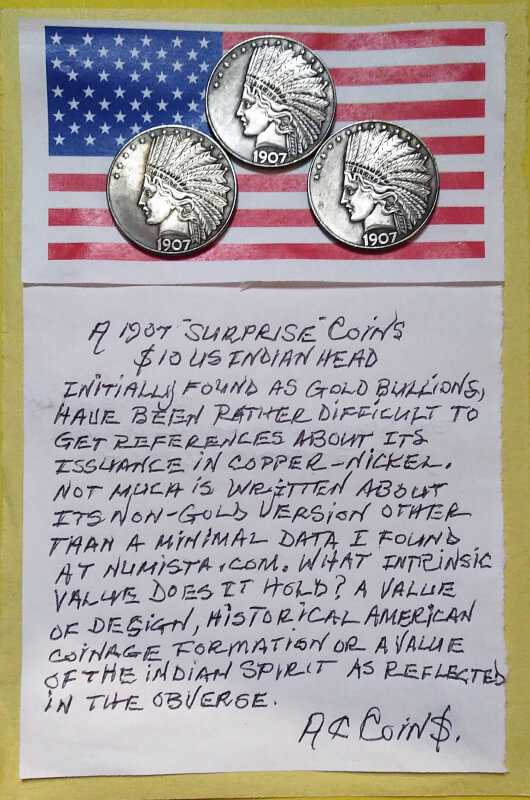 A 1907 $10 Indian Head Coin Surprise
My three 1907á US $10 indian head coins.

To me it hides a message of strength and poise, a value of surprise in the eyes of a collector and what hit me is that I never before came accross it, until now. The reverse holds an eagle image which surrounds the styles of the American life at the beginning of the twentieth century. As I wrote this lines my soul seemed to be transported to the streets of our Nation within the 1900's.
Writting then about a coin with little information tends to become more of a soul appreciation and, perhaps for numismatists it could be a new trend.
I respect all indian nations, because of their traditions, cultures and lives. I cherish their deeds and images thru American motion pictures as many times enacted. Their natural ways, their solid characters reflected in movies. Their head decorations, their battle axes, their dances and many manifestations will make us all remember them forever.

***Since I have not been able to locate pertaining details about my coins I would appreciate if the reader comes accross specific coinage information to share it with us.á
I use mostly in all my postings images of wildlife and known animals because I believe in animal rights and protection worldwide. From the bottom of my heart, Please do me a favor,,,, If you are here, push the follow me button by my username. For further details about this coins and others please visit my collections section. Thanks,

AC Coin$.